In an ideal world, waiting near the top of the new OFCOM boss Ed Richards' in-tray, there should be a folder marked 'Sky Monopoly' and on it a brightly coloured post-it with the words anti competitive clearly inscribed.
Digital Television is a standards based system with the majority of the world using a system called DVB (the Americans have something called ATSC but that's a story for another day), the UK's Sky TV uses the DVB standard in most respects.
Pay TV operations rely on a system of Conditional Access (CA) where channels are encrypted, viewers with a suitable viewing card can decrypt the services they subscribe to, those who don't subscribe don't get.
To enable the pay services to operate with the use of 'viewing cards' the DVB system has a standard, the standard allows for different viewing cards to co-exist and for TV services to be encrypted by more than one encryption method at a time, the so called Simulcrypt (Simultaneous encryption, get it?).

The area where Sky has decided not to use DVB is for its Conditional Access encryption.
Sky TV which is controlled by News Corporation, the large multinational media company with Rupert Murdoch at the helm, uses a special tailored version of Conditional Access a variant of Videoguard which is produced by a company called NDS that is in turn, majority owned by News Corporation.
Now you might be curious to know why this matters, well as the majority of UK householders who watch digital TV, watch via a Sky TV satellite 'digibox' and to have a channel that can be easily received via Sky TV the channel must contract with Sky TV to appear on the Sky Electronic Programme Guide, commonly referred to as the EPG.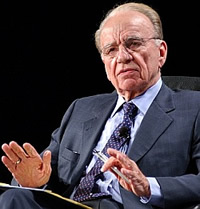 If that TV service then wants to charge the subscribers to their service they have to use that special version of Videoguard CA.
So what can be done about it? Well OFCOM can and should mandate Sky TV to open up its platform to other DVB CA systems and new entrants can then offer smaller niche services and a new competitive platform to Sky should emerge.
The BBC has for some time been promising a Freeview alternative to the UK's dominant pay TV operation Sky Digital, but with it's struggle with the government to secure a long term above inflation licence fee settlement and its desire to start a High Definition TV service, this cause has been relegated to the back burner.
As the government ordained switchover date looms ever closer, viewers who can only receive digital TV by satellite should be able to choose a non Sky alternative even at the risk of upsetting a powerful media mogul.