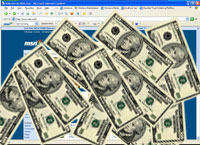 U.S. Internet advertising revenue has hit a new record high of nearly $8 billion for first six months of the year, increasing by a money-spinning 37 per cent, according to a new study.
The figures from a report by the Interactive Advertising Bureau (IAB) and PricewaterhouseCoopers, suggest Internet advertising revenue has continued to surge, despite a recent warning by Yahoo that new media ad spending could be slowing.
Yahoo pointed to weaknesses in two key sectors in marketing – automobile and financial firms – although some analysts think that the claimed slowdown is more about Yahoo's own business declining and is not symptomatic of an industry-wide trend.
"The latest results reaffirm the Internet's growing importance for marketers to integrate online advertising into their overall media plans," commented David Silverman, Partner, Entertainment & Media Practice, PricewaterhouseCoopers.
"While search advertising remains the largest format in terms of revenues, we expect to see new formats like video ads to continue to emerge as advertisers seek to leverage the branding opportunities afforded by the growing installed base of broadband users," headded.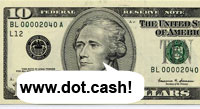 The IAB/ PricewaterhouseCoopers figures show that Internet advertising revenue totalled nearly $4.1 billion in the last quarter, representing a thumping a 36 percent increase over the same period last year, and up a healthy 5.5 percent over the first quarter of 2006.
The study also reports that search-related advertising rose 40 percent in the first half of 2006, with classified advertising rising 20 percent.
"With the seventh consecutive quarter of growth behind us we are confident that the Internet will continue to reconcile the imbalances between its share of media consumption versus its relative share of total advertising spend," enthused Pete Petrusky, director, Entertainment & Media Practice at PricewaterhouseCoopers.
Elsewhere, the Online Publishers Association (which includes CNET, iVillage and Reuters), forecasted a rosy future for its members, saying that it expected online advertising grow about 28 percent for the third quarter, with most of its members "seeing strength in all advertising categories with no areas appearing to slow down."
[Via Reuters]