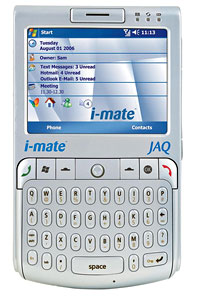 Currently blossoming on the Ugly Tree and ripe for plucking is the new i-mate JAQ PocketPC phone.
The press launch photos looked ugly enough, but it looks like it doesn't get any prettier close up, as hands-on photos released on Mobility Today reveal.
Looking like a Treo built by Cybermen, the i-Mate JAQ Windows Mobile PocketPC Phone is one of the first i-Mate devices to be developed from the company's new partnership with Taiwanese firm, Inventec Mercury (previously, i-Mate phones have been made by HTC).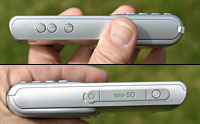 As far as we know, i-Mate haven't officially split from HTC, but the company seems to be following O2's policy of sourcing Windows smartphones from other manufacturers as well as HTC – a decision perhaps prompted by HTC recently releasing phones under their own name.
Specification-wise, it's a case of no alarms or surprises, with the quad-band (GSM 850/900/1800/1900, GPRS + EDGE) i-mate JAQ running Microsoft Windows Mobile 5.0 and featuring a full QWERTY keyboard with 128 MB ROM/64MB RAM and a MiniSD memory card slot.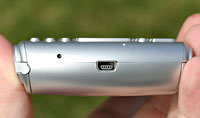 Quite a hefty beast at 122x71x22mm and weighing 160 grams, the i-Mate JAQ comes with a 2.8″ 320×240 pixels, 65k colour display, Bluetooth and InfraRed, but there's no WiFi or 3G in sight, neither is there an onboard camera, which strikes us as a serious omission.
With looks that even its own mother couldn't love, and a no-fun, limited feature set, here's one phone that we can't get excited about.
Let's hope future collaborations between i-Mate and Inventec bring more exciting results.
i-mate JAQ specs:
Network: GSM 850/900/1800/1900
Data: GPRS + EDGE
Screen: 320×240 pixels, 65k colours
Camera: No
Size: 122x71x22mm / 160 grams
Bluetooth: Yes
Memory card: microSD
Infra-red: Yes
Polyphonic: Yes
Java: Limited
Battery life: Not specified