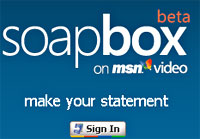 Microsoft is looking to shove its king sized oar into the massive successful user-generated video phenomenon with the launch of an online service to take on the likes of YouTube, Google and Yahoo.
Named Soapbox, the service enters beta testing today, and is expected to launch within six months as an integrated part of their current MSN Video service.
"We're definitely not blind to the fact that YouTube has a big lead right now," admitted Rob Bennett, general manager of MSN's entertainment and video services.
He's not wrong there either, with Nielsen/NetRatings reporting that YouTube scooped up 34 million visitors last month, while MSN Video could only muster some 12m.
In comparison, MySpace video notches up 17.9 million visitors a month with Google Video not far behind with 13.5 million each month.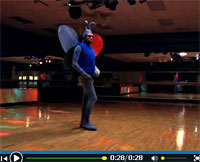 With Microsoft's vast reserves of cash to fall back on, it's not surprising that Bennett is chirpy about their prospects, "It's really early days in online video; this is still act one."
Microsoft is running the beta trials by invitation only although users can apply on the website, which currently shows a kray-zeee video of some bloke prancing around in a silly MSN-style costume.
Woowargh! Those wacky Microsoft dudes!
The company says that the service will support a number of video file formats and delivery methods and run on both Windows and Apple operating systems with support for popular browsers like Internet Explorer, Firefox and Safari.
It's obviously early days yet, but tech website Cnet were unimpressed with the Soapbox beta, declaring it "disappointing" and only "slightly better sharing service than YouTube in some small technical ways."
[Via: BBC]