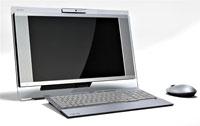 Sony Europe has announced the Vaio LA-Series, a striking all-in-one Media Centre which is sure to make a big statement on your desk (e.g. "I have pots of money" or, "keep your grubby mitts off my fashion statement transparent surround").
Converging the PC and TV to provide a feast o'entertainment on your desktop, the unit features a specially developed motherboard to maintain its ultra slim profile, and is powered by the latest Intel Core 2 Duo processor with 2 GB of RAM.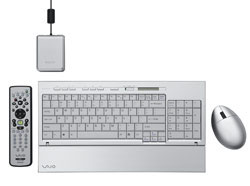 In a design not entirely unreminiscent of the iMac, the slim and sleek unit has all the components and gubbins neatly tucked away behind a large LCD screen.
The display looks stunning, with the spacious 19 inch WSXGA+ (1680 x 1050 pixels) flat screen framed by an oversized see-through border giving it a floating effect. We're not sure if the display is glass, Perspex or humble plastic, but it sure looks mighty purdy to us.
Running on Windows XP Media Center edition, the Sony also includes a hybrid tuner delivering both analogue and digital terrestrial (DVB-T) channels, a hefty 250GB hard drive, DVD burner, Wi-Fi, Integrated Motion-Eye webcam and Remote Control.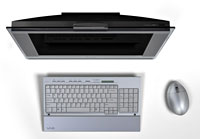 In line with the unit's eye catching looks, there's Sony comes bundled with a wireless keyboard and mouse in a stylish brushed aluminium finish, with the keyboard "folding up for a beautiful presentation when not in use." Can't say we've ever seen a beautifully presented keyboard before, but there you go.
Pricing details are a bit confusing, ranging from $2,499 on some sites to the more competitive price of $2,099.99 on Sony's US website.