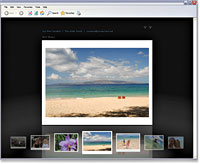 Adobe has announced the latest upgrade to their Photoshop Elements consumer photo editing software with Version 5 of the popular, consumer-friendly package adding more tools to help photographers organise, edit and share their pictures.
With a strong focus on sharing, Photoshop Elements lets users organise photos into themed and customisable layouts with online scrapbooks offering a choice of over 100 frames.
Using a trusty ol' drag and drop interface, photos can be moved and resized within the templates, with a new Map View letting snappers mark photo-shoot locations on an online satellite map.
Adobe Photoshop Services makes it easy for users to share photos online, with the Flash-powered Adobe Photoshop Showcase allowing punters to go kerrrr-azy with spinning, whirring virtual scrapbooks, with lots of options to add unutterably cheesy effects like falling snow and spinning photo carousels (don't do it!).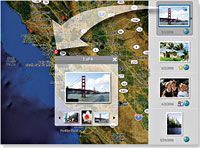 Powerful imaging tools
Amongst all the eye-candy fluff, there's the usual powerful image editing tools which has rightly made Elements the best selling consumer photo editing software on the planet.
These include intelligent features that automatically correct skin tone, lighting, colour, contrast and 'red eye,' with tools to fine-tune colour, brightness, and contrast.
It's even got some of the advanced features from its big brother, the industry standard Photoshop CS2, with smart tools like a Healing Brush for removing unwanted objects and ex'girl/boyfriends, a Spot Healing Brush for getting rid of dust and scratches in old photos, and Shadow/Highlight for lightening shadows and reducing the glare of highlights.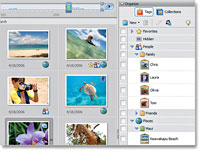 New tools for version 5 include a useful black-and-white conversion tool, a long overdue "Adjust Colour Curves" tool for fine-tuning images and a handy controls for correcting camera lens distortion.
"Digital photography has changed the way people capture moments and memories and today's digital cameras and even camera phones have the potential to deliver some extraordinary results," intoned John Loiacono, senior vice president of Creative Solutions Business Unit at Adobe.
"Adobe Photoshop Elements gives customers the creative freedom to get more out of their digital camera, with the sophisticated and accessible editing features that the Photoshop name is famed for. The result is superior images that can be shared with family and friends in new, exciting, high impact ways – on the Web or in printed formats," he frothed.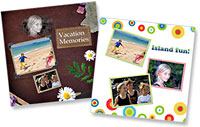 Premiere Elements 3.0
Adobe also unveiled the version three of their Adobe Premiere Elements software, which tightly integrates with Elements to let punters get wildly creative with their photos and home videos.
Both products will be available in October 2006 with Adobe Photoshop Elements 5.0 for Windows knocking out for around £69.99 (excluding VAT), with the option to buy the Adobe Photoshop Elements 5.0/ Premiere Elements 3.0 bundle for just under a ton.
It looks like Mac users are still stuck with Photoshop Elements 4.0 which also retails for £69.99 (excVAT).