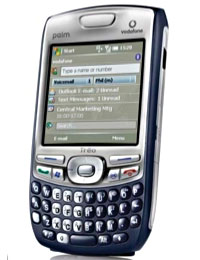 Palm have revealed details about their eagerly awaited Treo 750v, which will be made available on the Vodafone network in the UK.
The smartphone will come with quadband support for GSM, GPRS, EDGE, 3G/UMTS plus Bluetooth 1.2, but there's no sign of HSDPA onboard.
(In case you're not up to speed with the latest acronyms, HSDPA stands for High-Speed Downlink Packet Access – also referred to as 3.5G – and provides higher data transfer speeds; up to 14.4 Mbit/s per cell downlink and 2 Mbit/s per cell uplink.)
This new release will be the first of the Treo smartphones to not have a thumping great trademark antennae sticking out of the top, with the body being noticeably slimmer too.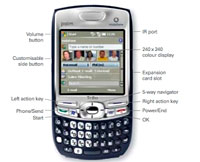 In line with Palm's weird aversion to all things Wi-Fi in their Treos, hotspot lovers will have to invest in a separate Wi-Fi SDIO card.
As with the previous 700p both enjoy 320 x 320 pixel displays).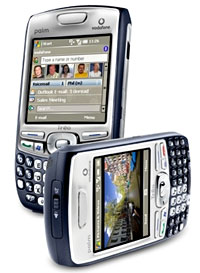 Memory has been boosted to 128MB plus 60MB user flash memory, with the device sharing the same 1.3 megapixel digital camera and the excellent full QWERTY keyboard with 5-way navigator of its predecessors.
Users can pre-order the Treo 750v from Vodafone's UK small business online shop ("From Free to £127.66"), with the full product launch scheduled for 27th September 2006.
Palm Treo 750w
Palm Treo 750w UK page
Vodafone Treo
HSDPA explained