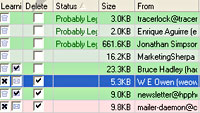 A new report from anti virus firm SoftScan has revealed that spam levels remain hideously high at 87.72% of all email traffic, while reports of phishing activity have soared.
Virus levels have doubled, but at 1.02% they still represent a tiny proportion of the total email scanned by SoftScan last month.
The company said that 89.5 per cent of all viruses scanned were classified as phishing malware, although this increase could be attributed to improved or additional antivirus detection.
Diego d'Ambra, chief technical officer at SoftScan, said: "Recent enhancements and developments by the antivirus industry to their scanners has meant an increase in detecting phishing emails as malware, as opposed to spam. This gives the impression that phishing has risen significantly, but is really due to the reclassification from spam to malware."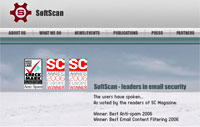 Spam levels are expected to reduce by a few per cent soon, with the post-summer holiday rise in legitimate business email pushing the spam percentage back down to its usual level of around 85 per cent.
A breakdown of the the top five virus groups in July are as follows:
1 Phishing: 89.50%
2 Netsky: 2.44%
3 Mytob: 2.19%
4 Bzub 1.42%
5 Bagle 1.22%
Mailwasher
Here in Digital Lifestyle towers, we're plagued with spam like everyone else, but have been long time users of the excellent Mailwasher Pro software (Windows/Mac/Linux) which lets us swot spams from our server without having to download the things.
The software analyses each email as it arrives and flags up a warning if it is suspected junk mail using fuzzy logic and filtering, and there's also the ability to set up custom filters.
There's also a free version available for single accounts: Mailwasher freebie – well worth checking out for nowt!