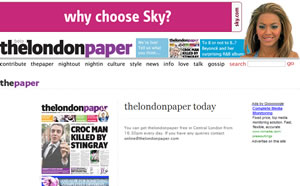 News International, MySpace-Murdoch's newspaper enterprise yesterday launched a new, free newspaper and Web site for London.
We're not going to bore you with the version that's stampted on to dead trees, we'll take a quick look at the site and see where Murdoch may be taking his empire with his re-found enthusiasm for the Internet.
The design of the site, is clear – blog-like, and in his opening comment page, the editor, Stefano Hatfield, writes on the launch of the site (my bold)
thelondonpaper.com also launches (as a beta site) today. In addition to breaking news, competitions and opportunities to contribute and vote, our website takes a broadband look at life in London with daily video coverage of news and entertainment across the city.
As we've seen already, Murdoch is applying cross media promotion to MySpace, the selling episodes on the TV program 24 by his Fox television.
This continues on at thelondonpaper.com.
No real surprise that Sky (his satellite TV biz in the UK) features large. Well … he's just trying to help his son make his projected subscription figures isn't he? Any media company-owning dad would do they same wouldn't they?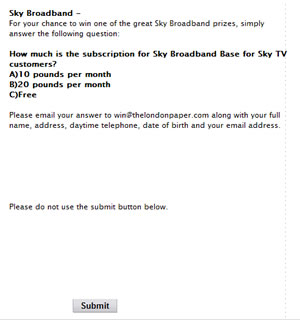 Besides the centrally placed Sky adverts, there's a competition to win Sky Broadband (his UK broadband service).
The release date of thelondonpaper was brought forward, and in the lower sections of the site, it starts to show. Going to the competition submission pages, we're told (my bold)
Please email your answer to win@thelondonpaper.com along with your full name, address, daytime telephone, date of birth and your email address. Please do not use the submit button below.
Of course we did, expecting the whole of News International to come crashing down … it didn't.
The other point of interest? Google text ads on the site. Them chucking $900m on the table to advertise on MySpace, clearly extended beyond that single property.
As to the video taking a 'broadband look at London,' well it's pretty thin on the ground currently, but we found a couple of pieces including an interview with Fear of flying, which by remarkable coincidence, also has a link to …. their MySpace. What a lovely self-referential world it looks like we're moving to.