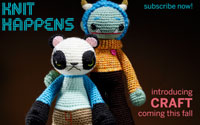 We've already told you about the electronics-focussed and very blokey Make: magazine, but they've now got competition in the shape of a soon-come sister publication called Craft:, which is aimed at the "new alternative craft movement."
Riding the tidal wave-sized upsurge of all things arts'n'crafts, the new Craft: mag promises to get knitting needles clattering with renewed relish, serving up a series of craft-related projects including silk-screening, sewing, recycling, bag making, craft profiles and crocheting.
Carla Sinclair, Editor-in-Chief explains, "Traditional crafting practices and techniques are still the foundation for what we're doing, yet we're also incorporating technology, creative recycling, innovative materials and processes. There's a fun sense of irony, irreverence and attitude in our mission."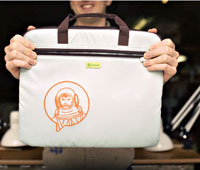 In line with its hip Web 2.0 aspirations, the magazine comes with an interactive website offering tons of links to 'craft mafia' clubs, an online blog, projects, magazine features and a clever idea to deliver knitting patterns over iTunes.
Downloading knitting patterns
With a new Craft: Magazine channel being developed for iTunes, hardcore embroiderers and full-on sewers will soon be able to download craft based audio and videos, as well as grabbing PDF sewing patterns for printing out.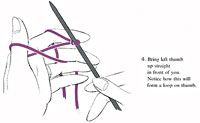 The magazine are trialling the service now, so mad-for-it crafters can download a pattern for a stretch tube top with drawstring bottom, hipster shorts with scoop sides (whatever that is) from here.
It's not all traditional, rocking chair stuff either, with adventurous projects on "sewing conductive thread onto fabric to create soft circuits," recycling new products from wine corks, cake mix boxes and candy wrappers, LED shirts, and even a DIY project on making placemats from a cereal box and milk carton.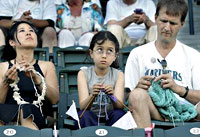 Fun, funky and painfully hip, the Craft: website is already a great resource for DIY types looking for inspiration and ideas, and makes a pleasant change from the usual corporate homogenised dreck that we keep getting press releases about.
The first issue of the Craft: magazine will be hitting the newsstands in the Autumn, and readers can expect more web-based offerings before the launch.