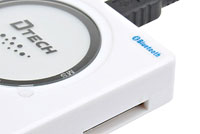 If – like us – you've been using digital cameras and electronics gizmos for years on end you might now be the proud owner of a huge pile of memory cards in a host of different formats, with a ton of cables scattered around the office.
With limited USB ports available on laptops, most of us have had to invest in a card reader, and although we were pretty impressed with the Targus 14 in 1 USB Card Reader we reviewed last year, compared to Brando's brand new, read-anything-that-moves USB Bluetooth Card Reader, it's positively Spartan.
Brando's new reader manages to accommodate an astonishing 52 formats and, for your enlightenment and enchantment, here's the full list:
CF I, CF II, Extreme CF, Extreme III CF, Ultra II CF, HS CF, XS-XS CF, CF Elite PRO, CF PRO, CF PRO II, IMB MD, Hitachi MD, MagicStor, MS, MS PRO, MS Duo, MS PRO Duo, MS MG, MS MG PRO, MS MG Duo, MS MG PRO Duo, Extreme MS PRO, Extreme III MS PRO, Ultra II MS PRO, HS MS MG PRO, HS MS MG PRO Duo, HS MS PRO, HS MS PRO Duo, MS ROM, MS Select, SD, *MiniSD, HS Mini SD, Extreme SD, Extreme III SD, Ultra II SD, SD-Ultra-X, Ultra speed SD, SD PRO, SD Elite PRO, HS SD, MMC, MMC 4.0, HS MMC, HS RS MMC, RS MMC, RS MMC 4.0, DV-RS MMC, SM, SM ROM, XD, *T-Flash.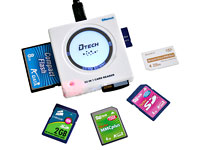 The USB 2.0 reader also conveniently doubles up as a Bluetooth hub, allowing you to wirelessly transfer data between Bluetooth devices such as mobile phones and PDAs.
Being a device from our favourite weird'n'wonderful gizmo makers Brando, there's also some totally pointless eye candy on offer, with the device cycling through "multi moody colours" – perfect if you'd like to host a mini disco by the pencil sharpener on your desk.
Brando claim a receiving/sending range of 20m, with the supplied cable measuring in at 64cm.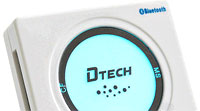 Compatible with Windows 98/98SE/ME/2000/XP, the 63x63x15mm reader weighs in at 76g and is powered by the host computer's USB slot.
It's as cheap as chips too, priced at just US$25.
We only wish that electronics manufacturers would stop inventing bloomin' new formats every other day and made these multi-readers obselete….