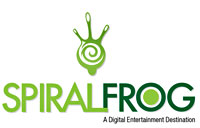 Vivendi Universal, the biggest music group on the planet have signed a deal with Spiralfrog to let surfers download the contents of its man-sized music catalogue for free.
The New York based company Spiralfrog will be launching the new service offering Universal's songs for download in December – but in US and Canada only – bah!
As some old bloke in the pub used to tell us, "You don't get nuffink for free in the world, no way, not ever," and for once he was right – surfers wanting to gorge themselves on all that luvverly free music will have to endure tons of adverts, presumably of the targeted kind.
The dreadfully named Spiralfrog are looking to take on the mighty iTunes, and have high hopes that punters will be quick to switch loyalties when download prices of nuppence are whispered in their shell-likes, compared to Apple's current rate of 99 cents per song in the US.
"Offering young consumers an easy-to-use alternative to pirated music sites will be compelling," enthused Spiralfrog Chief Executive Robin Kent said.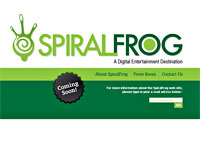 Making it pay
With an estimated forty dodgy downloads to every legal download over the Internet, Spiralfrog could attract the huge number of users currently risking prosecution from pirate file-swapping services, making their money by sharing income from advertising with content partners like Universal.
Amongst the music industry cognoscenti, a few eyebrows have raised about the practicalities of the new service, with music industry specialist Josh Lawler telling the BBC: "The Internet is very much a viable media, but the trick is going to be getting it off the ground in the first place".
"Spiralfrog will have to find a way to pay artists from the advertising dollars they are generating. But they're not necessarily going to know how many advertising dollars there are and so some artists are going to be hesitant about it," he added.
If Spiralfrog does get it right, the company could seriously shake up a market that saw 60 million MP3 players sold and 420 million single tracks downloaded last year.