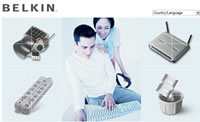 Belkin showed off their new 802.11n draft 1.0 equipment today. They've announced an access point and wireless card to go with it, both should be available in the shops by September. Following that, an ADSL router will follow along with a USB adapter and PCI card.
802.11n is designed to make set-up easier, so the user no longer gets to choose channels, it's all done by the system to optimise the available spectrum. The router also displays coloured error symbols on the display to indicate problems (like security not being enabled, or devices that are disconnected).
N1 ahead of the pack?
Belkin have waited for the 802.11n dust to settle rather than jump on the preN bandwagon. This should give them a big advantage in terms of interoperability – though there's still no guarantee that their equipment will meet the final 802.11n specification which isn't due for ratification until late 2007/early 2008.
What they have done, is ensured the equipment works with various chipsets (Aetheros, Broadcomm and Marvell) that are used within their units. When Netgear initially launched their preN routers and cards, their Broadcomm based kit wouldn't talk to their Marvell based systems (well they would but only using 802.11g). If their own software works well, there's a chance that their systems might interoperate with N kit from other vendors.
It's all about speed
802.11n offers real speed improvements over 802.11b (11Mb/s) and 802.11g (54Mb/s). The wireless rate is 300Mb/s which should give around 150Mb/s useable bandwidth. Belkin were showing around 110Mb/s which is better than wired fast Ethernet (2 HD streams were being sent to two different systems and there was bandwidth to spare for their new Skype phones and other generic 802.11g laptops).
Currently users should probably stick to buying all their N equipment from one vendor but it should allow greatly improved connectivity speeds.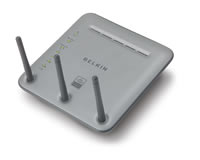 If it's just for connecting to the Internet, the Internet connection is going to limit the speed so upgrading isn't worth it, but for distributing video and music around the house, the speed increase will make a difference.
Another advantage is the use of MIMO (multiple in, multiple out) which uses multiple aerials to transmit and receive the wireless signal. It's a complicated technology, but sort of acts like a radar beam which is steered so better signals between the router and the PC.
Another Skype Phone
Coming in around October is the Belkin Skype phone. It looks rather like a SonyEricsson phone. It can do almost everything a PC Skype client can, obviously call other users, but it also displays your balances etc (though you have to go to the Website to buy credit).
Various wireless networks can be set-up on the phone, but it doesn't have a browser so using from a public hotspot that requires Web based authentication won't work.
It's easy to use and small. Charges via USB.
N will be the way to go
Though 802.11n is still a draft specification and likely to change, it can offer much higher data rates and is perfect for moving large datastreams around a building – like video. Belkin have done well to wait and may reap interoperability benefits for having done so. The router looks nice and the easy set-up will be a boon for users struggling with complicated WiFi networks.
If it really does all work we'd give it an 80% score.
The Ethernet router version (avail September) will have an RRP of £149.99 inc VAT.