Apple have announced that they're recalling 1.8 million laptop batteries including 1.1m in the US. This follows a similar action by Dell, which saw them recalling 4 million batteries ten days ago.
The manufacturer of both of these batteries was the same company – Sony Corp, who are the world's second-largest maker of rechargeable batteries.
Sony explained that the batteries, made in China by Sony workers, can, very occasionally, have loose metal particles in them, causing a short circuit. They say this is what's caused them to catch fire.
The combined 6m battery recall is thought to be the largest in the consumer-electronics industry and it's anticipated that it will cost Sony as much as $257m (30 million yen).
It's cost their Japanese stock holders a lot more than that with 2.4% of their stock price being lost when the announcement arrived. They also lost value in the US as you can see from the Yahoo Chart plotting Sony against the NASDAQ.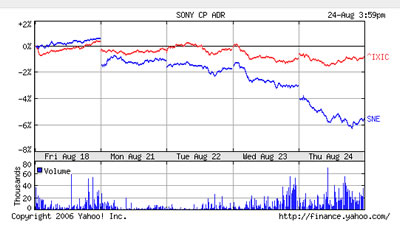 Late last year, other parts of Sony, SonyBMG, suffered bad publicity over their use of EULA of their audio CDs.
There is an upside for most Apple laptop owners – they get a fresh battery when the likelihood is that they're current one is starting to lose the capacity to hold charge. That includes us – yippee!