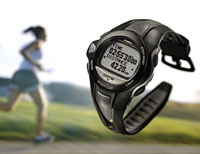 Most GPS enabled watches we've seen so far have been so ridiculously chunky that you'd need the muscles of Mick McManus to stop your arm dragging to the floor under the weight.
However, Casio's sleek'n'slinky new GPR-100 is a GPS-enabled watch that manages to pack in all that clever satellite positioning technology into something that actually resembles a normal watch.
Designed for hi-tech sporty types with an appetite for stats, the waterproof wristwatch checks in with GPS satellites to calculate the time, speed, distance and pace of your run, with the ability to set performance-related goals while you distribute sweat all over the neighbourhood.
We're working from a Japanese translation here so the details aren't entirely clear, but it seems that positional points can be inputted, with the watch able to calculate the direction and distance from your present location.
There's also a calendar, a stopwatch offering lap/split, running time, travel distance, average pace, distance inside lap, pace inside lap, an alarm and a backlight inside the 64g watch.
It's not designed for marathon runners though, with the rechargeable LiOn battery only managing a mere 2 hours in "normal operation," although this can be stretched out to 4.3 hours in "low power mode."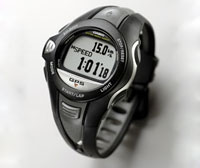 Despite its GPS abilities, the watch can't display maps or offer latitude or longitude information on its tiny 49×72 full dot LCD screen, so there's no chance of the bleeping t'ing guiding us home after a heavy session in the pub.
There's no denying that it's a mighty feat of miniaturisation to wedge in so much functionality into the Casio's diminutive proportions (63.1mm×49.5mm×17.1mm), but – yowch! – that cool portability comes at a jogging pants-tightening price: ¥54,000 ($476).
Casio [Japan] (sort of translated)