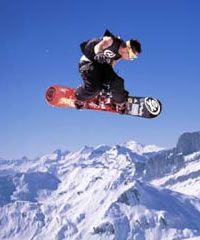 UK satellite operator, Sky is building on their video offerings on the Sky Mobile service, by adding the Extreme Sports Channel.
Sky and Vodafone have been offering video content on their 3G network since October last year.
The latest addition will offer made-for-mobile content including a series covering the best and worst slams and profiles on the ultimate extreme sports legends as well as existing content such as the acclaimed Tips & Tricks series.
Sports has been popular content on Sky Mobile TV, so as Stephen Nuttall, Director of Business Development at Sky says, "we're giving customers even more of what they enjoy."
We suspect that Sky is adding the extreme sports to attract a different sort of subscriber to the service, which they're not increasing the price of, leaving it at £5/month for unlimited access.
All of this content is currently only available to Vodafone 3G subscribers, but it is expected that other networks are in discussions with Sky and it's expected that they may offer it on their networks.