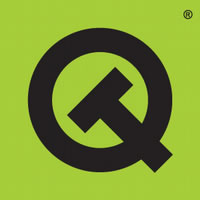 Trolltech may not be well known, but they make a software product called Qt (pronounced "cutie") which is used by many. It's a package that allows developers to write code that works across several platforms (Windows, Linux and MacOS X) so only one set of API's (Applications Programming Interfaces) need to be learnt.
Qt is used both commercially and in the open source community (it's the basis for the Linux KDE windowing environment). Commercially there are several well known programs using it, including Skype and various packages from Google and Adobe.
Qt has been around for quite a while and more recently introduced Qtopia a complete Linux development environment, using Qt as a basis for its user interface.
Qtopia comes in several editions including a phone edition which is used by several vendors including Motorola. It uses Embedded Linux (version 2.4) and then Qtopia sits on top, offering various standard interfaces (including the user interface and standard Qtopia applications like calendaring, contacts, etc).
Qt and Qtopia are designed to make writing applications easy, however it's still a relatively complicated task. Supporting lots of flavours of hardware further complicates things.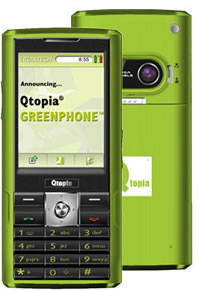 Trolltech Greenphone
In addition to Qt and Qtopia, Trolltech have come out with a mobile development device, known as the Greephone. Unsuprisingly it has a green casing, just so you don't forget. The phone only supports GSM/GPRS.
The Greenphone comes with Qtopia Phone Edition 4.1.4 and the Linux kernel 2.4.19.
The hardware consists of a touch-screen and keypad UI QVGA LCD colour screen, Intel XScale 312 MHz PXA270, 64MB RAM & 128MB Flash, Mini-SD card slot, Broadcom BCM2121 GSM/GPRS baseband processor, Bluetooth and Mini-USB port.
Though it's not designed to be used in production, it is designed to allow developers to rapidly prototype applications that can then be moved on to a real phone before expensive prototypes are made.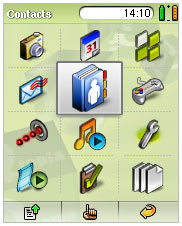 Applications, new kernels and versions of Qt and Qtopia can be loaded on to the Greenphone through the mini USB connection.
The Greenphone comes with a complete Qtopia SDK (software development kit) which provides a complete environment for developing and modifying application software for Qtopia Phone Edition. It can produce packages that run on the Greenphone itself or run through the virtual phone included with the SDK.
There are already over 4 million Linux phones utilising Trolltech's software, this just allows manufacturers to develop Linux applications and get them to market more rapidly.
The mobile phone market is already a crowded space with Microsoft Windows Mobile 5.0 and Symbian dominating the market. Maybe this will give Linux the mobile boost it needs to push it into the mainstream.