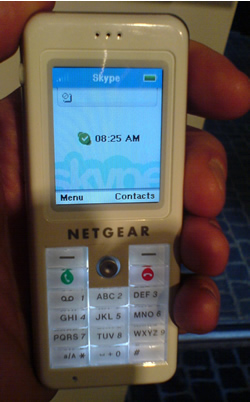 The terrible day that the mobile phone companies had been hoping wasn't going to arrive, is here. Skype have today announced four WiFi handsets that let you send and receive calls without switching your computer on while wanding around – err, like a mobile phone. They've been expected for a while, but are finally getting closer to the hands of the public, being as they'll start selling in Q3 this year.
The big shift for these handsets are that Skype is embedded into the handsets, so the PC/Mac isn't required to make calls, as has been the case with wireless Skype handsets to now, like the Siemens M34.
Speaking in an ideally sized, sound-bite sentence, Stefan Oberg, General Manager Hardware at Skype enthused, "We want to give people the freedom to move around while talking and have access to Skype wherever they are – whether in front of a computer or while moving around the home or office,"
The quad-bevy of handsets announced were
Belkin WiFi Phone for Skype (F1PP000GN-SK);
Edge-Core WiFi Phone for Skype (WM4201);
NETGEAR WiFi Phone for Skype (SPH101); and,
SMC Wi-Fi Phone for Skype (WSKP100).
NetGear SPH101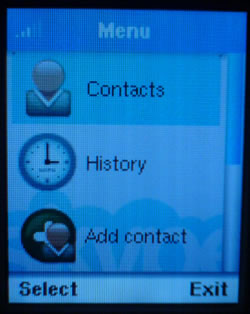 We got our hand on the NetGear SPH101 recently and were really impressed with the solid build and how easy it was to use. The Skype interface was loyal to the computer-based editions, with the graphics being an exact replica.
The only issue we found was, as it doesn't have a Web browser built into it, it doesn't have the ability to connect to Public Wifi points such as BT OpenZone or The Cloud, as you can't log into them. Open access don't have this problem and the expected encryption protocols are supported including WEP, WPA, and WPA2 with PSK support. We'd imagine that the inability to login via a Browser would be the same with all of these handsets. It's unclear how long the battery will last when released, by NetGear were quite bullish.
The SMC handset is being made by a company that we've been speaking to in Taiwan. The OEM manufacturing deal was signed within the last week, so it shows how fast this area of the market is moving, seeing the Skype announcements coming so close on its heals.
Mobile phone companies are now having to live with the fact that, with sufficient WiFi coverage, people may not need to pay for their mobile phone calls in the future. Yikes!