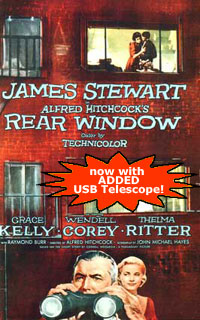 If you enjoyed Hitchcock's Rear Window movie, you can now play a James Stewart character in your very own home thanks to Brando's new USB Web Cam With Telescope.
The sneaky, spying Webcam comes with a built in 7×18 optical telescope letting you closely examine the goings-on of neighbours far and wide and – best of all – share their dodgy activities with the rest of the Web!
The example photos on Brando's Website show that it's a pretty powerful telescope, although with Image quality a mere VGA 800 x 600, you won't have to worry about Patrick Moore smashing down your front door with his glockenspiel mallets and demanding a go.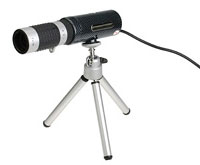 The manual focus Webcam also offers video with a frame rate of 30fps at 320×240 and 15fps at 640×480.
The package arrives with its own mini tripod, driver, manual and – bless – a little cloth to keep your telescope glass nice and shiny.

Being a Brando product, it's as cheap as chips – just $26 – and only available via mail order from Hong Kong.
We've been tempted by some of their daft products in the past and can report that we've always found them a prompt and reliable supplier.