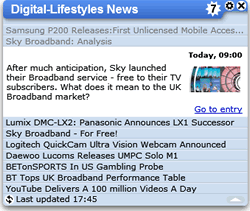 When we saw the Opera Widgets launch with Opera 9 Beta, discussion went around the team that this sounded like a good idea, and we'd create one for Digital-Lifestyles. But you know what it's like when you're constantly staying on top of convergence news and being showered with great gadgets to review – things like News Widgets slide down the list of things that need to be done.
Having said all of that – it's with great excitement that we can announce the arrival of the Digital-Lifestyles Widget for Opera browsers. [Sadly FeedBurn, our RSS handler, appears to be being a bit flaky at the moment. If so, you may not see the news.]
How the heck have we found time to do this? Well, with a couple of mouse clicks actually, thanks to Opera releasing Widgetize, this afternoon, a simple to follow, form-driven way to make simple Widgets.
By stepping through four screens and typing in a couple of fields, you quickly get to the finished product.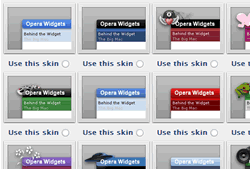 There's thirteen different skin designs currently available with any RSS or Atom feed simply turned in to a Widget.
Not slow on making the most of online social sites, if you don't have your own feed setup, there's simple integration with Yahoo! 360, Blogger, LiveJournal, Xanga, MSN Spaces, WordPress and Opera's own community site, My Opera.
So get yourself in gear, install the Digital-Lifestyles News Widget, or get making your own.