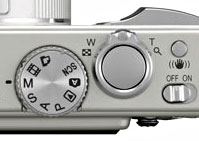 There was a lot to like when we reviewed the Panasonic Lumix LX1 digicam last year, but the fine optics and high-end feature set were badly compromised by snowstorms of image noise, even at relatively low ISO ratings.
Well, here's the new LX2, which sticks with its predecessor's f/2.8 28mm wide angle LEICA DC lens, 4x optical zoom (28mm to 112mm equiv) and MEGA O.I.S.(Optical Image Stabilizer) system and adds a beefier 10.2 megapixel sensor, using the same unique 16:9 widescreen format.
Mindful of the noise issues, the press announcement claims that the Lumix Venus Engine III will "dramatically" reduce the noise that "challenged" the LX1. Well, that's one way of putting it, I suppose.
Bigscreen
New on the LX2 is a larger, 2.8″ 207k widescreen TFT LCD (with High Angle mode), with sensitivity going all the way up to ISO 1600 at full resolution, with a reduced resolution ISO 3200 mode for those super-dark moments.
A new "Intelligent ISO Control" automatically boosts the ISO setting and shutter speed if the camera detects subject motion, and the camera offers an improved range of scene modes.
The LX1 ships with the same intuitive interface and superb joystick control, making it easy to set focus and exposure manually.
Tapping the joystick on the LX1 brought up shortcuts to white balance adjustment, ISO setting, image size setting and compression format, and the LX2 conveniently adds light metering and AF mode settings to the menu.
As before, there's a switch on the lens barrel to quickly jump from MF, AF or Macro AF focus modes and to set the image aspect (4:3, 3:2 and 16:9).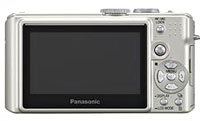 Aimed at serious photographers, we hope to have a review copy of the LX2 shortly to put it through its paces.
Let's see if it can topple our current fave high-end digicam, the Ricoh GR Digital.
Pricing and availability is still to be announced.
Specifications:
Sensor: 1/1.65 " Type CCD, 10.2 million effective pixels
Image sizes
4:3 Aspect Ratio 3168 x 2376, 2880 x 2160, 2304 x 1728, 2048 x 1536, 1600 x 1200, 1280 x 960, 640 x 480
3:2 Aspect Ratio 3568 x 2376, 3248 x 2160, 2560 x 1712, 2048 x 1360
16:9 Aspect Ratio 4224 x 2376, 3840 x 2160, 3072 x 1728, 1920 x 1080
Movie clips
4:3 Aspect Ratio 640 x 480 @ 30fps / 10fps
16:9 Aspect Ratio 848 x 480 @ 30fps / 10fps, 1280 x720 pixels @ 15fps
File formats Still: JPEG (Exif 2.2), RAW
Movie: QuickTime Motion JPEG
Lens LEICA DC VARIO-ELMARIT 28-112mm (35mm equiv) in 16:9 aspect mode, F2.8 – F8.0 (w) F4.9 – F8.0 (t), 4x optical zoom
Image stabilization MEGA O.I.S. (Mode1 / Mode2)
Focus Autofocus, AF area modes 1-point, 1-point high speed, 3 point high speed, 9 point, Spot
Focus distance Normal: Wide 50cm/ Tele 100cm – infinity, Macro/ MF/ Auto: Wide 5cm/ Tele 30cm – infinity
Metering Intelligent Multiple, Center Weighted, Spot
ISO sensitivityAuto, ISO 100, ISO 200, ISO 400, ISO 800, ISO 1600, High Sensitivity Mode: 3200
Exposure compensation +/- 2EV, 1/3 EV steps
Exposure bracketing +/- 1/3 EV -1EV step, 3 frames
Shuttter speed 1/4 – 1/2000sec., Program AE : 1 – 1/2000sec.
Aperture Priority AE / Shutter Priority AE : 8 – 1/2000sec.
Manual : 60 – 1/2000sec., Aperture F2.8 – F8.0 (w) F4.9 – F8.0 (t)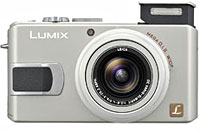 Modes
Exposure Auto, Program AE, Aperture Priority AE, Shutter Priority AE, Manual
Scene modes
Portrait, Soft Skin, Scenery, Sports, Night Portrait, Night Scenery, Self-portrait, Food etc etc
Continuous shooting 2fps or 1fps, max 5 images (standard) max 3 images (fine)
Flash Auto, Auto/Red-eye Reduction, Slow Sync./Red-eye Reduction, Forced On/Off
Range: 0.6 – 4.9m (Wide/ISO Auto), 0.3 – 2.2m (Tele/ISO Auto), Flash output Adjustment (1/3EV step, -2 – +2 EV)
Viewfinder No
LCD monitor 2.8-inch wide Polycrystalline TFT, 207,000 pixels
Weight (no batt) 187 g (0.41 lb)
Dimensions 105.7 x 55.8 x 26.3 mm (4.16 x 2.20 x 1.04 in)