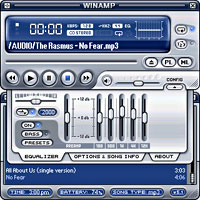 Here's the third in Mike's three part review of why the Palm Treo rocks his boat.
Iambic Agendus application on the Palm OS.
When partnered with the optional Agendus Windows Desktop application, the program is a masterclass in interface and usability design and is – in our opinion – a good enough reason to move to the Palm OS alone if you're after a world class PIM.
Despite the enhanced feature set, more powerful processor and more modern software, I constantly found Windows Mobile to be a frustrating experience, with many functions unnecessarily complicated.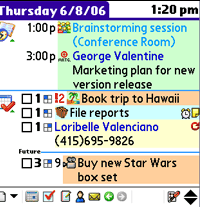 Word!
Even with Microsoft's own products, the Palm did a better job, with the bundled Documents to Go application on the Treo proving far more effective at handling Word, Excel and PowerPoint documents than its Microsoft Mobile counterpart.
When it comes to email the Treo ended up streets ahead again, with the hugely powerful third party email application Chatter Email beating everything I've seen on the Pocket PC platform (the less said about Palm's built in Versamail client the better, however.)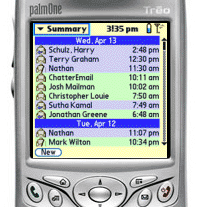 It's the same story with SMS, with the built in text messaging interface on the Palm remaining streets ahead of its Pocket PC rivals, with the superb auto-threading conversations making it easy to keep track of text conversations. It really is a delight to use.
Being a mature platform, the Palm OS has grown has a ton of capable, office-related, third party programs for taking care of finances and budgeting, databases, project management and travel etc., so you're sure to find something for your needs.
In our next installment, I'll be looking at Palm's connectivity and having a moan about the lack of Wi-Fi.