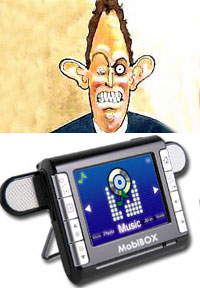 Smaller than a pack of cards and packed with enough whizz-bang functionality to keep a hyperactive cokehead entertained for hours, MobiBox's new MP410 multimedia recorder and player packs a big punch for the price.
Featuring a 2.5-inch TFT display and measuring just 18x68x81, the MP410 is a veritable mini-marvel – not only can it groove to MP3 and WMA music files, but it can record and play back MPEG4 video files from video sources such as VCR, DVD, DVB-T and satellite at an impressive 30fps (VGA resolution.)
The unit ships with memory capacities running from 128MB to 512MB – not a great deal when you're dealing with video files, but at least the SD/MMC slot can accept expansion cards up to 4GB.
To help keep file sizes down, the MPEG4 recorder comes with a variety of quality settings running from 'best' and 'fine' right down to the dandruff in a snowstorm 'economy' resolution.
There's also a FM radio (87.5MHz~108MHz) with 20 presets with autoscan onboard and the ability to view JPEG pictures.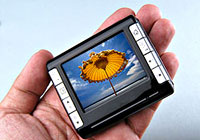 The MP410 also features a pair of folding out speakers for added 'Tony Blair' appeal, and comes with a pull-out stand for desk viewing.
The MobiBox MP410 is on sale now for around £130 (€188, $237).
MobiBox MP410 Specs
Dual stereo speaker
Built-in microphone
Buttons: power/mode/menu/display/up/down/left/right/hold switch
Storage Type SD/MMC card + Built-in flash memory 128 MB (optional 256MB / 512MB)
LCD Display 2.5″ LTPS TFT LCD 960X240, 230K pixels / 262K color
FM Tuner/Recorder 76MHz~96MHz for Japan; 87.5MHz~108MHz for worldwide
UP to 20 frequency preset channels available
Auto scan radio frequency channel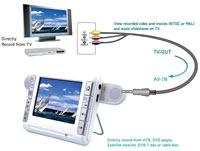 Interface 2 in 1 MiniUSB (USB 2.0/power in)
5 in 1 earphone jack (video out/earphone jack/external microphone/ AV in/FM antenna)
Video / Audio Video out /
Video in TV out (NTSC / PAL) / AV in (NTSC / PAL)
AV recorder resolution 640*480 (VGA) / max 30 fps
AV audio quality 2 modes: radio quality (16KHz) / CD quality (48KHz)
AV recorder quality MPEG4 : best/fine/normal/basic/economy
Voice recorder 2 modes: radio quality (16KHz) / CD quality (48KHz)
Picture Print Out Support DPOF (digital print order format)
Playback Mode 2 modes for playback
Single / Index- nine image indexes
File Transfer / Copy Support copying or transferring files between SD card and internal memory
Format Support
* DSC: JPEG (EXIF 2.2)
* DV: ASF (simple profile MPEG4)
* Voice recorder: WAV (IMA ADPCM)
* Music file format: mp3, WMA (got license from Microsoft and SISVEL)
Power Supply
Battery Rechargeable Li-Ion battery (3.7V / 920 mA , compatible with NP60 type battery)
Adapter 5V DC adapter (mini USB port) / USB cable
Dimensions Weight(g) 96 g (with battery)
Size 18x68x81(LxWxH) mm