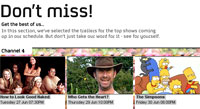 Channel 4 has today launched a new broadband Simulcast service, making their live TV schedule available online for viewing, for free.
To access the content users will need to register at www.channel4.com/livetv.
Once registered, PC users will be able to sit back and watch a streamed version of Channel 4's TV schedule, broadcast at the same time as their live TV transmission.
Broadband users – and no doubt, bored office workers sneaking a peek – will be able to sneakily indulge themselves with a feast of Channel 4's original content, although films and acquired shows (such as the hugely popular Lost or Desperate Housewives), are off the menu for now.

Channel 4 has, however, said that it is negotiating with US studios to add their content at a later date.
The programming will carry the same commercials as the regular Channel 4 TV service, and where the current programming is not available, a rather less-than-enticing sounding "loop of Channel 4 promotions" will be broadcast.
The streamed Channel 4 programmes will also be accessible via the channel's Website for up to seven days after transmission.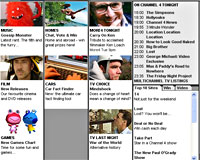 Appearing in a thundercloud of enthusiasm, Channel 4 CEO Andy Duncan was on-beam and on-message and rapidly hit evangelical overdrive, describing the Web transmission as an opportunity "to build on what Channel 4 has always done – stimulate, infuriate, debate, create," adding that he didn't see the digital revolution as an attack on Channel 4's power as a public broadcaster, but as a "fantastic opportunity,"
After taking a breather, he continued, "It is our stated aim to make Channel 4's public service programming available across all meaningful platforms and to be the first UK broadcaster to begin simulcasting our content on broadband is a significant step towards delivering on this objective."
Channel Four's decision to slap their live TV content up on the Web is indeed a significant development, and proof of how new media is redefining distribution channels.
Despite this, many of the most popular consumer electronics devices remain rooted around a traditional TV, with Freeview boxes and widescreen LCD and HD sets enjoying huge sales.