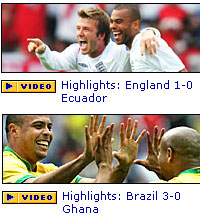 When it comes to World Cup football Web coverage in the UK, the BBC isn't just dribbling past its rivals – it's positively crushing past them, according to figures released by Nielsen NetRatings.
England's dull-as-ditchwater victory over Ecuador in the first knock-out round pulled in the biggest UK audience to sports and gambling sites of all the matches so far, with one million users pushing the weekly audience to over 3 million for the first time.
Of that figure, the BBC Sport website attracted 1.58 million unique visitors overall last week, recording an average viewing time of 11 minutes.
This amounts to a hefty 58 per cent share of the weekly sports and gambling audience, with the official Yahoo FIFA World Cup Website coming over like a bunch of Third Division cloggers, managing only a fifth of that traffic.
The Beeb's closest rival was Sky Sports, which managed 423,000 unique visitors, each hanging about for an average of five minutes each, followed by Premium TV (419,400), FIFA World Cup (298,000), Sporting Life (209,360) and Yahoo Sports (187,000).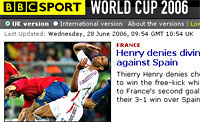 Interestingly, the Sporting Life site proved the 'stickiest' with punters spending the longest time on the site (an average of 36 mins each).
Overall, the World Cup has seen a 51% growth in online punters visiting sports and gambling websites in the UK over the last four weeks.
Match by match analysis
Breaking the figures down to individual games, the report shows that the first match against Paraguay attracted an online audience of 979,000 users with the BBC grabbing 51% of that total, followed by Trinidad & Tobago (885,000 users, BBC with 51%), Sweden (936,000, 47%) and Ecuador (1,016,000, 47%).
The BBC added that when the worldwide traffic was added to the total, its overall sports traffic as high as three million unique users.