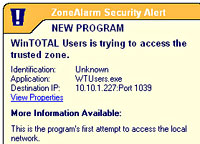 After happily using Zonelabs' freebie Zonealarm firewall product for years on end, we were keen to try out their commercial Zonealarm Internet Security Suite 6, which bolts on a ton of extras to tempt skinflints.
The £50 suite certainly looks to be great value, serving up an overflowing platter of features including Zone Alarm's famous firewall, backed by anti-spyware and anti-virus tools, ID and privacy protection, cookie management, email protection, phishing and spam blocking, parental controls for instant messaging and wireless network protection.
The Computer Associates' anti-virus module has been souped up somewhat, now offering spyware integration, a new pause/continue function for the scanner, and a quarantine management area for any infected files you don't want blasted off your system.
The suite offers what Zonelabs grandly describes as their Triple Defence Firewall – this claims to protect your machine from outside attack; monitor programs trying to access the Web; and protect your OS with a firewall that keeps a beady eye on the operating system, Registry and file system.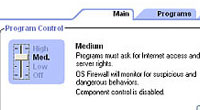 Zone Alarm's anti-phishing widget has also been enhanced, and the privacy protection feature lets users specify what personal information they want protected, e.g. phone numbers, addresses, bank accounts etc.
Easy as pie
We found the suite dead easy to set up, and there's a handy animated tutorial to guide you through the settings.
The program sports a simple, unified interface with straightforward 'high, medium or low' slider controls for security settings.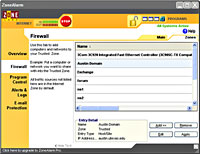 Fine tuning and advanced options were also available, but for many users the default settings should be enough to get them up and running within minutes.
Home networking
If you're running a home network, Zonealarm will automatically detect the connection and prompt you to add it to the trusted or Internet zones, so that you can make sure your files are only shared on your own network and not by lurking hackers.
We found the network wizard pretty straightforward, although perhaps not as idiot-proof as the interface on the rival Norton Personal Firewall software.
SmartDefence
The SmartDefence service provides real-time updates and new attack-protection capabilities, with the price including a year's worth of automatic updates – as soon as the year's up, you'll have to shell out for an upgrade or risk running outdated software.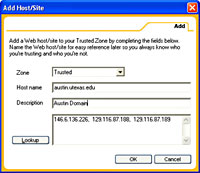 Although there's not a great deal new on offer here – save the anti-spyware feature – the Internet Security Suite is a solid product that gives you all the protection you need for a reasonable fifty quid.
Although it's possible to gather together the same sort of functionality by using freebie products like AVG anti-virus and Ad-aware, if you're looking for an all-in, tightly integrated fit'n'forget solution, you won't find much better than Zonealarm's Internet Security Suite 6.
As we went to press, Zone Alarms announced an update to their Security Suite, adding a new Game Mode which stops pesky security alerts getting in the way of the fragging action and some enhanced anti-spyware tools. More details on version 6.5 can be found here
Features: 85%
Ease of use: 85%
Value For Money: 70%
Overall: 85%
ZoneLabs