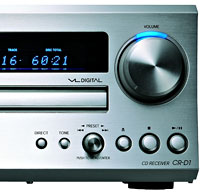 New from Onkyo is the CR-D1, a natty mini Hi-Fi CD/FM receiver with options to control docked iPods (volume/stop/start etc) and wirelessly stream music from PCs.
Sharing similar design lines to their CR-505DAB CD Receiver (which impressed us for a bit before going AWOL), the CR-D1 features a beefy 60W x 2 VL Digital amplifier with Wolfson DAC, a FM tuner (but, sadly, no AM or DAB) and a CD player.
iPod dockery
iPod owners can hook up their machines through the optional DS-A1 iPod dock, and then control playback via the CR-D1's remote control. Conveniently, the docking station will also charge up the iPod during playback.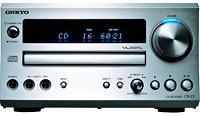 When it comes to expansion options, this fella's well stacked, offering 1 x optical, 3 x RCA, and stereo mini-jack inputs and 1 x optical, 2 x RCA, subwoofer, and headphone outputs.
Conveniently, Onkyo have slapped a pair of input/output sockets on the front of the unit, so punters don't have to do battle with spaghetti cabling at the back whenever they want to hook up another player or record from the line out socket.
Wireless widget
The optional UWL-1 module and USB dongle lets users turn their desktop or laptop PCs into music servers, with sound being delivered via high quality 2.4GHz digital transmission.
If you like the sound of all that wireless action going on, the system will be hitting the shelves of Japan in July 15th for an upmarket price of around $910 (£490).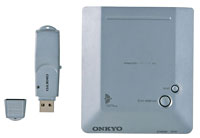 Specifications
Rated output: 60W + 60W (4 O, JEITA) – amplifier section
Harmonic wave distortion factor: 0.08%
Frequency response: 10Hz – 60kHz/ + 1dB – 3dB (LINE1)
Signal-noise ratio: 100dB (LINE1 and IHF-A)
Tone: ±6dB/80Hz (BASS) and ±8dB/10kHz (TREBLE), + 7dB/80Hz (S.BASS)
CD frequency response: 4Hz- 20kHz
FM reception range: FM76.0 -90.0MHz and VHF 1 and 2, 3ch
Power consumption 80W/ 0.15W standby
Size: Width 205× height 116× depth 335mm
Weight: 4.5kg