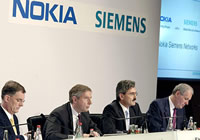 In the wake of the dot com boom, then the dot com collapse, equipment vendors have been feeling the fall-out and mergers seem to be the way to reconcile the collapsing markets. The Nokia-Siemens merger announcement bears witness to this.
Though the telecoms market is still expanding, increased competition from new entrants has made life very difficult for incumbent players.
The Siemens/Nokia merger is just the latest in what's likely to be a continuing trend, both for vendors and telecoms companies.
Nokia brings expertise in the mobile space (they previously pulled out fixed markets), while Siemens has experience in the wired and broadband markets. Though there will be some overlaps, both companies mainly concentrate in non-competing spaces and as such, they should be able to move forwards with the best of both companies to offer a strong solution for next generation networks.

Siemens, a German giant
Even after disposing of their mobile arms (BenQ have already taken up the mobile phone division), Siemens is still a huge force in the world market, with over 600,000 employees. They have just disposed of parts of the companies in markets they're not competing well in.
The BenQ buy-out of the mobile division of Siemens allows BenQ to sell phones under the Siemens brand for 18 months, and then under a joint BenQ/Siemens brand for a further 5 years, though BenQ may well drop the Siemens brand altogether. However, they are able to utilise Siemens' retails channels and will actually based out of the Siemens mobile division in Munich.
This turns BenQ from a small phone player, to one of the larger ones. Siemens have always been good at making phone innards (radios), but their designs have been dated. BenQ must be hoping to imitate the Sony/Ericsson partnership where Ericsson made good phones that weren't stylish, while Sony had the ergonomics, but dire insides.
Watch out for the Chinese
Though the west is merging like mad (most recently Lucent and Alcatel, both previously giants in the telecoms world) the real threat is coming from China.

Companies such as Huawei ("wu why" sometimes pronounced "who are we" which fits their appearance into markets that they had no presence in until recently) are starting to make serious dents into the Tier 1 telecoms/ISP markets.
A couple of years ago, no one had heard of them. They initially attacked the core ISP market with Internet routers, and offered Cisco "clone" hardware. While Cisco might sell you a system, then you add the software and then all the extra features, Huawei offered a system with everything on in the first place for 60% of the Cisco base price. Not surprisingly in an extremely competitive market, ISPs started utilising Huawei equipment. Huawei also have a huge development resource of 10's of thousands of high class engineers out of Chinese universities. Where Cisco might take weeks to analyse and diagnose a problem, Huawei set of team of people on the problem and can release fixes in hours.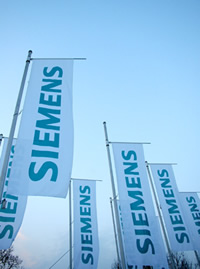 Now they've established themselves in the ISP market, the surrounding markets are being worked on (and since most ISPs are now owned by telecoms companies, it's the telecoms markets that are easiest to move into).
The Chinese can make carrier class equipment much more cost effectively than their western counterparts, which is why they are suffering.
As networks move towards triple and quadruple plays (voice, video, Internet or voice, video, Internet and mobile) the equipment vendors now have to compete in all these areas. Triple plays are most common currently, but as can be seen from the likes of players like Orange and NTL (both offering quadruple plays), the market is moving in that direction (Vodafone recently announced they're moving into fixed/broadband plays).
The combination of Nokia as the mobile infrastructure side of the business and Siemens Communications as the broadband/fixed player should allow them to offer a complete solution to their existing and new customers. If they can get the synergies right, the combined might of both has a good chance of competing and ultimately surviving in this crowded arena.
Only time will tell if they can defend against the power against them.