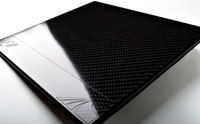 Designed exclusively for idiots with more money than sense, the official Formula 1 carbon and leather mouse mat can now be bought online for just £260 ($489, €380)
Whereas most folks are happy to go along with some wafer thin promotional freebie or a tatty old mouse mat bought for a fiver, the Formula 1 mat is clearly designed for loaded types who go through life struggling to find a connection between common sense and value.
The 'none-more-black' mat has been hand-made in England exclusively for Formula 1 by specialist composite technicians who make Formula One monocoques.
I guess we must be a bit thick here because we had to look up what 'monocoques' meant. We can now, however, tell fellow ignoramuses that it means, "a type of vehicle design in which the body and chassis are in one piece". So now you know.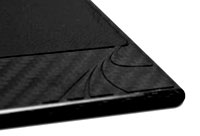 The blurb on the Formula 1 webpage insists that the carbon mouse mat was designed "using state of the art automotive 3D modelling software."
We're not entirely sure what 3D car design tools are needed to roll out a piece of flat material, but we can tell you that the mat is made of solid polished carbon fibre with an inlaid leather mouse area.
It looks like it might just be able to take the almighty stress of having an optical or ball-operated mouse rolling over its surface too, with the carbon being "cured to 120º C at 100 psi." Thank heavens for that.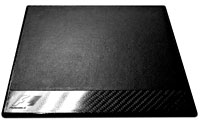 (There is a rather better looking all-carbon version available for 'just' £250, but this won't work with an optical mouse).
Just in case no-one's noticed that you're the owner of an outrageously overpriced mat – backed with the finest Italian black suede we'll have you know – the thing is embossed in carbon with the F1 Formula 1 logo.
We bet that will impress the ladies. Not.