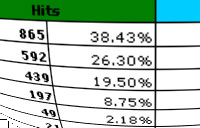 Google is ready to shove its size nines deep into Microsoft territory with the launch of a free Web-based spreadsheet program, Google Spreadsheets.
The new program will allow people to view and simultaneously edit data online while conducting what Google describe as "in-document" chat.
This new spreadsheet product looks sure to put the heat on Microsoft, who have long ruled the roost with their desktop-based, spreadsheet app Excel long being the de facto office tool.
Google's announcement comes hot on the heels of their purchase of Writely, a Web-based word processor, and puts them in direct competition with the Redmond mob who are busy prepping their new online-focused Windows Live and Office Live services.
Launching in beta form today, Google Spreadsheets supports the import and export of documents in the .xls format used in Excel and the .csv (common separate values) format, although it is not yet compatible with many of Excel's more powerful features – the program can't, for example, create charts or serve up control menus by right clicking on the screen.
Jonathan Rochelle, the Google Spreadsheets product manager, explained that the new service will be able to handle several hundred formulas used to manipulate data in Excel, but it won't be able to handle more complex functions like Excel macros.

He explained that the program's main goal is to make it easier for family, friends or co-workers to read and work on the same spreadsheet from different computers at different times, letting authorised users add and edit data without having to keep sending e-mail attachments back and forth.
"When people want to share and collaborate, we think this product fits in well," he added.
Users must have a Google account to use the new service, which will initially only be offered to a limited number of users.