Nokia took a step into the world of online content delivery today with the launch of a new Website specialising in downloadable games for its N-Gage device. Gamers can download time-limited demos of games such as One and Pathway to Glory before purchasing at between 19.99 and 29.99 euros.
The shop, is a significant step for the company allowing them to deliver games directly to customers, an achievement not always matched in stores. It could also pave the way for online games downloading services, perhaps the gaming equivalent of Apple's iTunes?
The process? All that is needed is to identify the game that you're interested in, pay for it, download it to your computer, then load it on to a spare memory card to your N-Gage.
The N-Gage has not had an easy time. The first version was launched to widespread derision due to its 'unique' side-talking feature, which forced users to speak into the side of the device, instantaneously transforming them into raging doofuses. A succession of model changes followed, culminating in the more sensibly configured, 7710, or N-Gage QD as it's more often known as..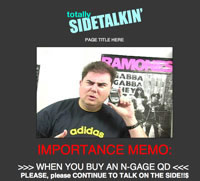 While the concept of side-talking may fuel nerd in-jokes for some time to come (see sidetalkin) Nokia are determined to develop the N-Gage platform to create a multi-player, mobile gaming community which can connect via a variety of devices. The N-Gage platform for multiple devices was announced at the E3 trade show in Washington last month and will roll-out in early 2007.
"As we move forward with our next generation of mobile gaming, we continue to offer N-Gage owners easy ways to get games," said Jukka Hosio, Director, Global Sales, Multimedia, Nokia. "The N-Gage platform is recognized worldwide for its high-quality mobile gaming content. By making these games available for download over the internet, we're making it easier for N-Gage owners to find and purchase new games."