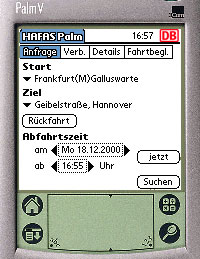 If you're a regular train traveller across the UK, or you're planning a holiday involving lots of different journeys, keeping track of all the various train times can be a bit of a pain.
Normally, you'd have to lug around a bag full of separate timetables or fork out for those spoddy jumbo timetable books often seen in the clammy paws of trainspotters, but thanks to the cunning skills of the German railway Website bahn.de, you can download customised timetables direct to your PC, phone or Palm handheld.
Setting up individual timetables is simplicity itself – just type in your start and destination stations and then select the date period you want journey information on.
Then tick off what days of the week you want included in your timetable along with the outward/return journey times (or select 'whole day' for the all trains) and select what modes of travel you want included or excluded from your file.
Next, you have to you choose what format you want your timetable in: PDF, PDB (for Palm handhelds) and J2ME for Java mobiles, downloadable as a zip file or via a WAP URL.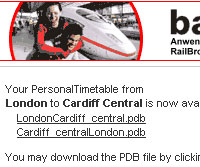 Then it's a case of bashing the 'create' buttom and waiting for a few minutes as the Teutonic technlogoy does it thing, before being presented with links to your timetable (you can elect to download the timetable directly from the site or have the files emailed to you).
Free Palm viewer
Palm users can also download a highly functional free custom viewer called, appropriately enough, Personal Viewer, created by the German company that powers the timetable engine, HaCon.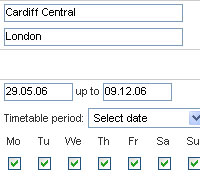 This small download provides a simple interface serving up enough timetable-related data to give train buffs a moist spot or two.
Users can store as many timetables as they like on their Palm (the files can also be run from the card to save space), with the tabbed interface letting travellers select their journey and time of travel and then see available trains, journey details and stops on the way – there's even an indication whether snacks will be available on the selected train!
We've been using this program on our Palm handheld for years, and can thoroughly recommend it – especially as it's totally FREE!
Overall score: 85%