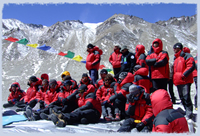 Sky News are very proud of what they're billing as the Highest Ever Video News Podcast (or HEVNP to all of you acronym manufacturers out there).
We genuinely do admire reporter Gerard Tubb and producer Jon Gripton who are doing the video pieces from the slopes of Everest. They're joining the 21 UK Army mountaineers from the regular UK and territorial armies (Special forces of some sort, we'd wager) who are aiming to get to the top via one of the toughest routes, The West Ridge – also worthy of huge admiration.
Tubb and Gripton have been in training for three months and have been using oxygen-reducing respirators to alter their blood so it can cope with life at high altitude. Tubb has also been to the Alps to be taught ice-climbing and crevasse rescue techniques by legendary mountaineer and mountain guide, Twid Turner (great name), who trained the expedition team.
From the report we've already seen, it's rather cold there, especially at night where temperatures are dropping to -1c. Even if you don't happen to freeze to death, we don't envy finding yourself waking up every 10 mins during the night with the feeling that you're drowning. As Tubb's says on the blog "the depressed CO2 levels can make you stop breathing until it builds up and triggers a fit of hyperventilation." Nice.
We're not ones to pick nit (well, OK we are), and we're certainly not deriding the amazing accomplishment of what they're doing, but as to whether they're the highest? Rumours are abound that people have seen higher vodcasts shot on location in Amsterdam, and others insist that they've seen other shot in planes (but that's not on the Earth is it).

What kit to take to Everest?
OK … We'd imagine that after reading this, you all planning your own assent of Everest, right?
Question number one, before you get to pick a splendid new jacket, is what tech kit you need to take with you? Clearly it's pretty specialist.
You'd imagine that it would be something with a huge keyboard, so you can type while wearing huge mittens. Well you'd be wrong clever sticks.
The laptop of choice is the Panasonic Toughbook. We'd been really impressed when we'd had this at Digital-Lifestyles towers. It's got great features like the hard drives sit in a bath of oil that gets pre-heated to a temperature it can work at. In this case they're not using those drives. They also chose them as reliability is top priority, as there aren't too many laptop repair shops on the Everest slopes.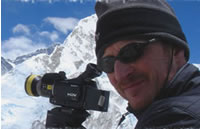 The video is being shot on two cameras, both Sony's, the HVR-Z1, or Z1 as it's know in the trade and the HVR-A1 (A1), having the advantage that it's really small – pretty useful when you're having to lug it up Everest.
Once shot, the video has some light editing done on the Toughbooks using Avid Express. The video is then fired back via a satellite dish at Base Camp to Sky HQ.
Cool bits from the Army
The army's really gone to tech town on this one, with great stuff like providing Google Earth place holders showing things like the teams routes and amazingly cool, dynamically updated team positions.
The army aren't just leaving the videocasts to Sky, they've got a lot of their own sitting on the podcast section of their site. Some of them are pretty interesting.
Good to see that even the army uses the tried and tested 'hold your comms device in the air to get reception' trick that we've all used at one time or another.
Also pleasing to see that the Junior team contains a fair number of women in it.
To top it off, they're also doing exclusive videos to your mobile for free.