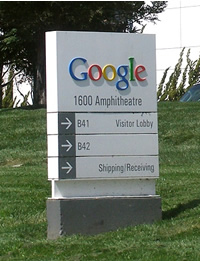 Google took the opportunity of their annual press briefing at the Googleplex to inform the assembled hacks of four new applications. The theme they were trying to push was 'honest we _are_ a search company."
In no particular order, the new apps are …
Google Notebook
Yet to be launched, but supposed to be making an appearance next week. Used when you skip around Web sites and want to gather bits and pieces from them such as text, URLs and graphics. These will then be stored online and you can choose to make them available to others.
Google Trends
Ever wanted to have access to the information that Google gathers on all of the billions of searches that flow through their simple search box? Yes, you're not alone, we'd love to as well. This is the closest that Google is going to let you get to it. Type in a search term and you'll get a plot of how popular the term has been with peaks highlighted on particular news stories.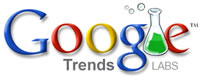 There's also a feature to compare two search terms, our favourite so far being good vs evil (glad to see good winning). Breakdowns that can be further explored are cities, regions and languages.
Google Co-op
Adds user knowledge to the power of Google's search engine. Individuals or companies will add their particular knowledge to sites or searches that they share with people who subscribe to them. Those who you do subscribe to, will appear in your google search results.
This is what we'd long imagined. It's an expansion of the idea of blogging where people gather knowledge and share. Could become the most significant announcement of the set, marking the next stage in search.

Google Desktop 4 & Google Gadgets
Not surprisingly the fourth release of this app that indexes all of the content on your machine, including what you get up to online. When this first came out, we realised that Google had beaten Microsoft as they'd become the way to locate your document on your PC, side-stepping Windows Explorer.
Everyone and their wife appear to be knocking out different versions of Apple's Dashboard or Desktop Widgets. For examples Yahoo bought Konfabulator (arguably 'the original') and then gave it away to the Yahoo-faithful.
Like Yahoo, Google are making them programmable, so code-fanatics will be able gain global fame.
Either this is a me-too product, which is pretty unlikely, or one step further into Google taking over Microsoft's dominance of the desktop, by placing apps on the desktop.