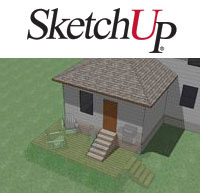 Barely a month after buying up software developers @Last Software, Google have released a free version of their popular 3D-modelling application SketchUp.
Running on Windows 2000 and Windows XP Home and Professional editions (Mac users will have to wait), the free version of SketchUp is a cut down version of SketchUp Pro 5, a high-end, commercial product.
Google SketchUp is touted as an 'easy-to-learn' 3D modelling program, offering simple tools to let users create 3D models of houses, sheds, decks, home additions and whatever else takes their fancy – all drawn with dimensional accuracy.
To get 3D newbies up and running there's thousands of pre-drawn components available to download, with video and self help tutorials available from within the program to explain what button does what.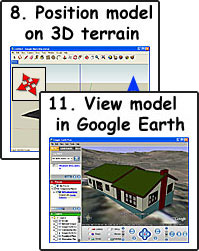 Details, textures and glass can also be added to models, which can then be uploaded onto Google Earth or shared with fellow modelling aficionados by posting them to the 3D Warehouse – a new site where SketchUp users can store, share and collaborate on designs.
Google SketchUp is free for personal use (no registration required) and the 20MB program files can be downloaded from here http://sketchup.google.com/