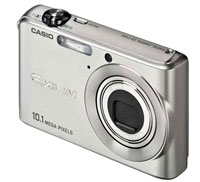 When it comes to pixel-waving, Casio look set to kick sand in the face of their rivals with the announcement of their new EXILIM ZOOM EX-Z1000 camera, boasting a man-sized 10 megapixel sensor.
Despite its beefy credentials, the camera remains a pocketable chap, fitting a 3x zoom and a large and bright 2.8 inch, 230,400 pixel, widescreen LCD display into its slimline form factor.
Casio have made use of the extra screen real estate to offer new functions like simultaneous viewing of a wide angle and a telephoto shot, with onscreen icons simplifying the snapping process.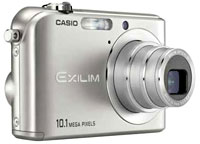 For wobbly hands and low light shots, there's Casio's Anti Shake mode onboard backed by an ISO range extending all the way up to ISO 3200 (in BEST SHOT mode).
Casio are claiming that it's a veritable Billy Whizz of a camera, with the ability to take a shot just 1.3 seconds after switching on and a shutter release lag time of approx 0.002 seconds. And that's pretty nippy, folks.
For capturing those amusing 'drunk mate falling in to the swimming pool' holiday moments, there's a Rapid Flash function which can grab up to three flash shots per second.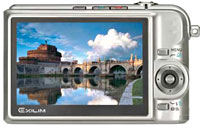 Battery life looks set to last a vacation too, with a claimed 360 shots per charge.
As ever, there's more scenes than a Cecil B DeMille movie on offer, with no less than 34 scene modes available backed up by 37 different types of BEST SHOT sample images to ensure that users get the snap they're after.
Movies can be taken in VGA size (640×480 pixels) at 25 frames per second (Motion JPEG) and there's an Auto Macro mode for automatic switching between auto focus mode and macro mode.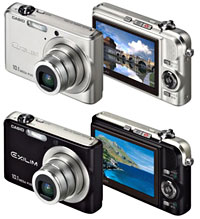 The EX-Z1000 is expected on the shelves in in mid-May, priced at around £380.
Specifications:
Resolution 10.1 million effective pixels for prints up to poster size
Zoom 3x optical zoom, 4x digital zoom (12x total when used in combination)
Recording Medium Built in internal flash memory (approx. 8.0MB recordable area)
Card slot for SD / MMC
Recording Mode Still image
Still image with audio
BESTSHOT (37 predefined scenarios)
Movie mode with audio
Voice recording
Monitor Super Bright 2.8″ widescreen digital LCD for outdoor viewing
High Speed Operation (EXILIM Engine) Direct-On function (approx. 1.3sec. start up, LCD and flash off) 0.002 sec. shutter release lag time (after focus lock)
High speed image playback (scroll 100 images in 10 secs.)
Input / Output Terminals Microphone
Input / Output Terminals Speaker
USB cradle with AV out
Power Proprietary SUPER LIFE rechargeable lithium-ion battery
Dimensions 92 x 58.4 x 22.4mm (W x H x D, excl. projections, thinnest point 19.9 mm)
Other High Power Flash for shooting further away from subjects
Rapid Flash for 3 flash photos per sec.
Soft Flash to prevent overexposure
Flash assist function
Icon help
Anti Shake DSP
Casio