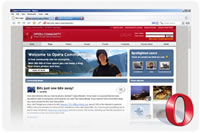 In the seemingly endless round of upgrades and improvements, Opera Software have just announced the first public Beta of Opera 9.
A number of new features have been included, those most relevant to the content world being a BitTorrent client built directly into the browser, so downloads can be kicked off without having to load a separate piece of software. BitTorrent is a distributed file-sharing protocol that enables the simple sharing of large files, without the need for a central server, or the bandwidth bills associated with it.
It will be interesting to see if Opera's other customers who use the embedded version for Consumer Electronics chips, throw any objection to the inclusion of BitTorrent – given the content worlds near-obsessive dislike of it.
Widgets are being included. These will be familiar with Apple Mac users, as it will do with users of the Yahoo Widgets, after their purchase of Konfabulator. They're little applications that can be written by users to provide features like a calendar, calculator, alarm clock, news headlines, weather reports, etc.
With the writers at Digital-Lifestyles being tab-monsters, we find one of the new features, thumbnail preview, highly desirable. By hovering over a tab, a miniature version of the page will popup to help you identify which page relates to which tab.

Among the other features in the new version are
Content blocker – Choose the content you want to view. Remove ads or images – it is up to you. Right-click on the Web page and choose "Block content"
Improved rich text editing – Take advantage of rich text editing capabilities when using the latest Web mail or blogging services
Customize your search engines – Use your favorite search engine in the search box. Right-click on the site's search field and select "Create search" from the menu
Site-specific preferences – Do you need to view a site in a different way or deny certain cookies? Want to block pop-ups on certain sites only? Site specific preferences hold the key