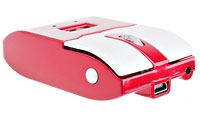 We must have all suffered this nightmare scenario.
One minute you're busy working away at your laptop and then disaster strikes…
Someone needs to know the exact current temperature as a matter of urgency and you've forgotten to bring your thermometer along. Doh!
And then, even worse, you're called upon to illuminate some distant object only to find that you left your laser pointer at home.
It's a catastrophe!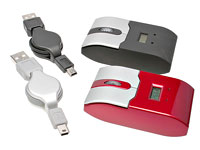 Well, worry no more, because thanks to those clever folks at Brando, you can now own a USB mouse that packs both a thermometer and a laser pointer.
What a genius idea!
The appropriately named USB Mouse with Laser Pointer and Thermometer, frankly, looks like it might have fallen off the ugly tree, but that's surely a small price to pay for owning such a potent combo.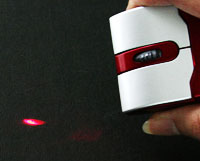 Whip that puppy out at a corporate meeting and you'll be the cock o'the walk!
Finished in a shiny black or red paint job, the optical mouse features a cheap and crappy small and simple LCD display for the temperature readout with the laser pointer operating from the mouse's underside.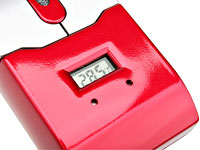 Their Website gives no indication as to the power of the pointer, but the illustration seems to suggest it can blast its mighty beam all of, err, a couple of feet, at best.
Coming with support for Windows 95/98/2000/NT/ME/XP, the 50g scroll mouse measures 75x35x20 mm and ships with a separate, retractable cable (8.8cm – 75cm) allowing you to stay tight to your PC or roam wild.
The mouse retails for $18 (~e14.5,~£10) and is available from the Brando website.
Don't all rush now!