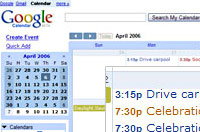 Search giant Google has announced a free, Web-based 'shareable' calendar service called, appropriately enough, Google Calendar, which allows users to post up events and share them with others.
Calendar owners can send out invitations to their chums and keep track of their responses and comments (like, "Bog off weirdo – we're not coming to your party").
Conveniently, friends can still receive and add responses to your invites even if they don't use Google Calendar themselves.
A neat 'Quick Add' feature uses Google's clever-clogs technology to understand phrases like, "Dinner at the Old Scrote And Hounds with Tony, 1.30pm Saturday" and automatically slap it in the right place in your calendar.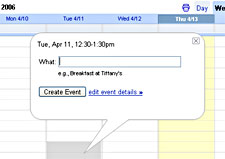 Gmail Integration
Gmail can also recognise events mentioned in emails, letting users add events without leaving their Gmail inbox.
Naturally, you can search your own calendar, with Google adding the ability to search public calendars to look for interesting events to add to your own diary (like Cardiff City FC fixtures, for example).
Powered by Javascript and XML, the calendar offers support for Microsoft IE 6.0+ and Mozilla Firefox 1.07+, although users will need JavaScript and cookies to be enabled for the calendar to work.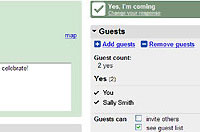 Based on open calendar standards, events can be imported from popular programs like Microsoft Outlook and Apple iCal, while schedules can be viewed by any external application or device that accepts iCal or XML files.
Taking on Yahoo!
Although Google is offering compatibility with Yahoo's popular calendar service (events can be shared between the two services), there's no question that they're looking to move in on Yahoo's patch.
In fact, Google have added a whole page explaining how users can migrate their entire Yahoo! Calendar to Google Calendar, which suggests that things might get a little lively between the two services soon.