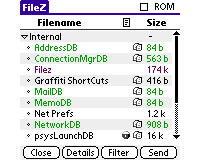 Filez
The essential application Palm forgot to include with their OS!
This fully featured file management and system utility gives full access to your handheld's files, with the no-nonsense browser letting you view, edit, copy, move and delete files on your Palm, or shunt files to and from a storage card.
There's also a ton of system information on tap, with three tabbed pages giving details about memory, battery, and syncing status.
A fully featured preference editor lets you view and delete preferences for any application on your handheld.
» Filez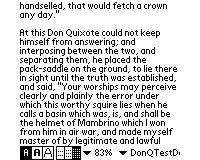 CSpotRun
A free ebook reader for documents in the popular Pilot DOC format, CSpotRun is a no-fuss, tiny (28k!) freeware reader which has long been a favourite with the Palm community.
Supporting Palm Hi-Res (320×320) and Palm Standard (160×160) resolutions, there's no frills to be seen – not even a splash of colour – but its simple and elegant interface make document reading a breeze.
Scrolling and font sizing options ensure comfortable reading, and there's tons of free ebooks available from QVadis.
» CSpotRun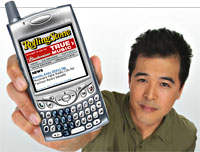 AvantGo
The slick AvantGo application lets you download slimmed-down mobile Web sites to your handheld using a desktop or wireless Internet connection – for free!
Offering support for Palm OS5 in 320×320 and 320×480 resolutions, the desktop client lets you sign up to news, sports, stocks, movie listings, RSS feeds etc, with the pages automatically synchronising to your handheld.
The partner Palm application offers a browser to read the downloaded pages and the whole thing is easy to set and configure.
AvantGo restricts users to the amount of MBs of content they can download for free, although we never came close to reaching this limit – despite being subscribed to a host of sites.
» Avantgo