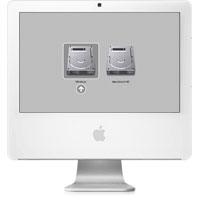 After hackers successfully managed to get an Intel-powered Mac running Windows XP operating system last month, Apple has come up with its own, simplified solution.
Now available as a 83 meg free beta download from Apple's Website, the new Boot Camp application makes it possible for users with a Microsoft installation disc to install Windows XP on an Intel-based Mac.
Once loaded, Mac users simply have to hold down the option key at startup to choose between Mac OS X and Windows.
If they choose to run Windows, the Mac will run the OS natively, with just a restart needed to return terrified Mac users back to the Apple OS.

How it works
Intel Mac users must first ensure that they're running the latest version of Mac OS X and that it's loaded with the latest firmware updates.
After it's been installed, the Boot Camp software then burns a CD containing drivers necessary for Windows to recognise Mac-specific hardware, before handholding users through the process of setting aside a section of the hard drive for the Windows installation.
The machine is then ready for the Windows installation disc (users will have to buy that separately) – the only tricky part here is manually making sure that XP installs on the Mac's C drive (otherwie it might overwrite programs and files).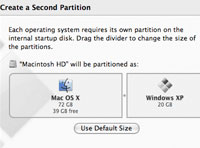 Once the installation process has done its thing and the Mac booted into Windows, users must then slam in their Drivers CD and sit back while it does it thing.
And then – bingo – Mac users are free to wander about in the wonderful world of Windows, with the comfort blanket of the Mac OS just a reboot away,
Release date
Boot Camp will be included in Apple's next major Mac OSX release (Leopard) which will be previewed at Apple's Worldwide Developer Conference in August.
"Apple has no desire or plan to sell or support Windows, but many customers have expressed their interest to run Windows on Apple's superior hardware now that we use Intel processors," explained Philip Schiller, Apple's senior vice president of Worldwide Product Marketing.
"We think Boot Camp makes the Mac even more appealing to Windows users considering making the switch," he added.
More information can be found at www.apple.com/macosx/bootcamp