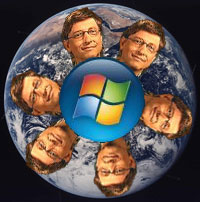 Two new studies into branding have produced two very different results, with a UK study declaring Microsoft the strongest brand in the known universe, while research in the US saw consumers slapping Microsoft down to near-bottom of their 'most trusted' list.
Brand consultancy Millward Brown Optimor (MBO) rated companies by calculating the value their brand was expected to generate in the future.
Microsoft topped the list, with the study showing most consumers held positive feelings about the brand. Andy Farr, executive director at MBO commented, "When you look at what customers and consumers say to us, they do hold Microsoft in high regard."
"They don't love [Microsoft] like they love Google but they respect it," he added just before his laptop crashed.
The survey results were based on a load of marketing guff that involved measuring buzzword-laded criteria like 'brand momentum,' 'intangible earnings' and 'brand contribution,' whatever all that means.
Tech companies hogged four of the top 10 global brand places with Vodafone grabbing the number one UK slot, while Google came in seventh overall for global brands and second for the tech sector,
Big-boy retailers also figured prominently, with Wal-Mart coming in at number six and Tesco notching up 30th place overall and number two in the UK).
According to the study, these are the top ten global brands (rated in $millions):
Microsoft Corporation ($62,039)
GE ($55,834)
Coca-Cola ($41.406)
China Mobile ($39,168)
Marlboro cigarettes ($38,510)
Wal-Mart ($37,567)
Google ($37,445)
IBM ($38,084)
Citigroup ($31.028)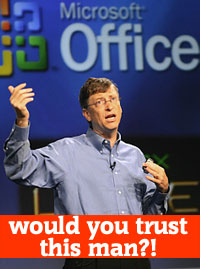 Bose, Dell, and Apple Score High On Trust
Across the pond, a brand study by Forrester Research saw Bose, Dell and Apple Computer being declared as technology brands trusted by U.S. consumers, with users warily eying the likes of Toshiba, Hitachi, Microsoft, Gateway and LG.
Forrester surveyed 4,700 US households between September and October last year to find out how much they trusted 48 technology brands.
The results weren't too encouraging for the industry, with the survey showing an across-the-board drop in trust in consumer computer and electronics brands – a trend continuing from 2003.
In the survey, only Apple and TiVo managed to register an increase in consumer trust between 2003 and 2005.
With Microsoft's brand scraping in at a lowly 20th spot out of the 22 companies included in the poll, Forrester's warned that Microsoft faces big a consumer defection risk.
With a deft turn of marketing-speak, Forrester analyst Ted Schadler observed that, "A decline in trust causes brand erosion and price-driven purchase decisions, which in turn correlates with low market growth."
"Trust is a powerful way to measure a brand's value and its ability to command a premium price or drive consumers into a higher-profit direct channel," concluded Ted Schadler.