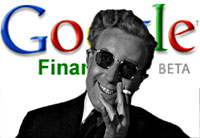 Like Dr Strangelove with a modem, Google has made another stride in its plans to take over the virtual world, with a new Google Finance service announced today.
Pitched directly against well-established financial information and news sites like Yahoo Finance and Microsoft's MSN Money, the free service was dreamt up by Google engineers in India looking for ways to improve financial information searching.
Katie Jacobs Stanton, a senior Google product manager, said that Google Finance was created in response to user surveys which found that their customers craved a financial information service.
Google hopes that their service will steal a march on rivals by providing an easier way to search for stocks, mutual funds, public and private companies.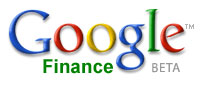 There'll also be a broad range of company news and information, an interactive chart correlating news and other events with stock price spikes and falls, delivered in a "clean, uncluttered user interface."
For those who like this kind of thing, Google Finance will incorporate interactive charts correlating market data with corresponding dated news stories, letting you track how a company's stock reacted to related news.
These charts can also be clicked, dragged and zoomed to reveal different time periods and more detailed information.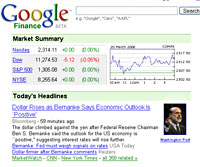 Google Finance also provides a personalised area for keeping track of stock quotes for selected companies along with any related news.
For a bigger financial picture, blog postings and (moderated) content from related discussion forums will also be incorporated in the service.
Although financial sites like Yahoo Finance, Marketwatch.com and TheStreet.com currently enjoy loyal followings, pundits are predicting that Google's advanced features and simplified interface could have a serious impact on the market.
Google currently has no plans to display ads on Google Finance, with a spokeswoman saying that all information on the site will be free of charge.