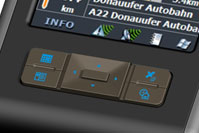 All-weather, lantern-jaw outdoor types and motorbike fiends should warm to the "ruggedized" version of the Pocket Loox N520 which has just been announced by the German based Andres-Industries.
Touted as the "world's smallest and cheapest rugged PDA" or even the, "world's first waterproof PDA with an integrated GPS receiver," the all-weather Rugged PDA is designed for outdoor types, motorcyclists and users working in 'hostile' environments.
Based on the Pocket LOOX N520, the PDA offers the same functionality with optional extras including a motorcycle mounting pack, car kit, a barcode scanning version and an 'industrial version' which sounds well 'ard.
Despite its beefed up case, the ruggedized (we're growing to like that word) handheld measures a reasonably compact 121 x 76 x 17.5 mm, and weighs 200g.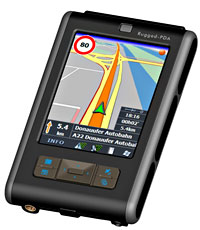 Motored by an Intel XScale PXA270 312 MHz CPU, the LOOX offers integrated wireless LAN 802.11g Wi-Fi, SD/MMC slot (with support for SDIO) and a large, 240×320 pixels 3.5″ screen supported by 64Mb RAM and 128Mb flash memory
The waterproof and impact resistant unit can also be wired up to a motorcycle's battery to reduce the chance of the GPS running out of juice on a hillside desolate.
Available in Europe by the end of this month, the unit comes in various configurations including the basic Rugged PDA at €550 (~£380, ~$670) and a GPS bundle with Navigon mobile navigator MN5, map and motorcycle mount retailing at €699 (~£485, ~$850).