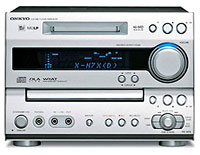 It has to be said that our last experience with an Onkyo hi-fi product wasn't exactly favourable (see our Onkyo CR-505DAB review), but their huge popularity – particularly in Japan – means they must be doing something right.
Despite our reservations, the enticing, high-tech feature set of their new X-N7UWX(D) Mini HiFi (snappy name guys!), has almost made us forget our previous problems, with the compact unit offering up a veritable banquet of listening options, as well as Wi-Fi and PC compatibility.
Providing a small room-filling 10W×2ch (8O), the Onkyo comes stuffed with some clever convergence technology, including an iPOD Dock compatibility feature letting you control your iPOD from the unit.

Attractively clad in a silver finish with a large LCD panel, the X-N7UWX also comes with a USB dongle and separate Wi-Fi unit, letting you wirelessly connect the stereo up to your PC and listen to MP3s on your hard drive – or stream content from your desktop.
Despite falling fortunes in the UK, Onkyo has steadfastly stuck with the trusty MiniDisc format, including a MD player/recorder as well as a CD player.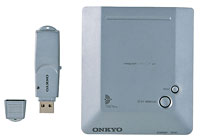 There's also an AM/FM receiver in there too, and possibly a DAB radio.
A fevered rummage around their Japanese site revealed a X-N9UWX version, although after an eternity battling with a not-playing-ball Babelfish we couldn't be sure what the difference is.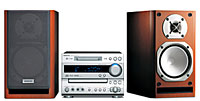 No pricing or availability yet for either of the units, but even if this unit doesn't make it to our shores, you can guarantee that we'll be seeing a lot more Wi-Fi hi-fi units on the horizon.
And we'd like one please.