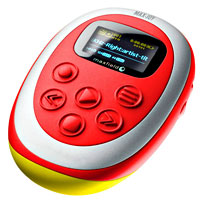 Back in our day, the only round thing that kids had in their pockets were marbles, conkers and gobstoppers, but German MP3 player maker Maxfield wants kids to shell out for their Max-Joy digital music player.
Targeted at pocket-money-rich young 'uns between six and twelve years old, the Max-Joy offers comes in a playground tough, water-resistant shell.
Resplendent in two-tone red and yellow, the 50g, 8 x 5.6 x 2.6cm device sports chunky operation buttons and an "extra-luminous" two-colour OLED screen.
To protect the delicate ears of schoolkids from repeated plays of Sludgefeast, the Max-Joy limits the audio output to 60dB through the supplied Koss-designed earphones.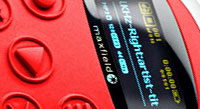 There's 256MB of on-board storage, with the option to add more song space via a SD memory card slot.
In line with its kid-friendly aspirations, Maxfield is lobbing in a free 128MB MMC along with some music and audio books (which will no doubt be promptly deleted and replaced by death metal favourites like Decapitated, Devourment, Vomit Remnants, Cannibal Corpse and Gorguts).
The player supports MP3, WMA and WMA DRM with six EQ pre-sets allowing for some sonic adjustments.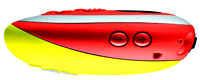 The Max-Joy runs off a single AAA battery, which the makers claim will give up to 19 hours' playback time, offering plenty of potential for parents to get a bit of peace.
The only thing that worries us is that the unit's pebble shape just asks, nay begs, for it to be launched skywards. Or maybe that's just us.
The Max-Joy is expected to appear on Amazon.co.uk soon for around sixty quid (~$105, ~€87).