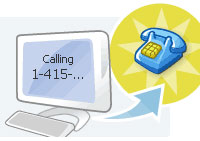 Things are hotting up in the US VoIP market as Yahoo announces their low cost Messenger with Voice service, letting users make phone calls through the company's instant messaging software.
The version 7.5 Beta launch comes after successful trials in five other countries since December, with the service letting users make calls from their computers for 2 cents a minute (or less) to the most popular national phone markets, including the United States.
Just like rival Skype, the new service lets users make freebie computer-to-computer calls, with a "Phone Out" and "Phone In" feature allowing users to dial or receive calls from landlines in 180 countries.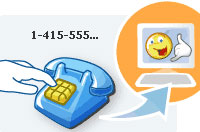 The Phone In service – which lets customers to receive calls on their computers from regular and mobile phones – is priced at $2.99 a month, or $29.90 (~£17, ~€25) a year, compared to Skype's €30 yearly charge.
Keen to elbow Skype off the VoIP table by appealing to consumer's wallets, Yahoo claim that their service is noticeably cheaper.
They claim Messenger with Voice costs between 20 to 30 percent lower than Skype's fees to many major markets outside the United States.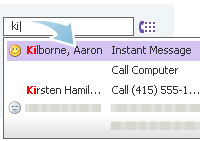 Yahoo are upbeat about prospects for their new service after trials in the initial five countries proved more successful than anticipated, especially in France.
Mindful that not everyone wants to bark into their computer, Yahoo have also struck deals with various hardware manufactures including headset makers Plantronics, USB handset manufacturers VTech and cordless phone kings Siemens AG.
With Yahoo Instant Messenger already enjoying a huge market presence, the new voice service could hurt Skype's prospects – after all, why should a user go through all the hassle of signing up with a third party when they're already with Yahoo?