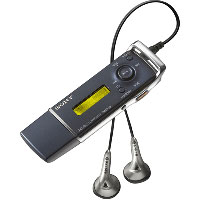 As voice recorders go (and, let's be honest, they're not the most exciting of gadgets) Sony's new CD-U70/ U50 devices look to be quite natty numbers.
Sporting Sony's usual design flair, the voice recorders come in two flavours, the top of the range ICD-U70, touts a hefty 1GB of flash memory, and its smaller brother the ICD-U50, which comes with 512MB of memory.
You'd have no bother losing these fellas down the back of the sofa as the recorders are pipsqueak-sized, measuring just 30x20x99.7mm and weighing in at a trouser-untroubling 64g.
Touted as a 'three in one' gizmo, the Sony IC recorders can be used as a mass data storage drive, an MP3 player and a voice recorder, with the thing plugging straight into the USB port of a PC.
For voice recording, there's three modes on offer – LP/SP/HQ, with the built in monaural microphone offering high and low sensitive settings.
Battery life is listed as an impressive 140 hours for voice recording and 6 hours for MP3 playback, with the unit offering Digital Pitch Control, Digital VOR (Voice Operated Recording) and 5 message folders to keep your perambulating wafflings filed away neatly.
For playing back your words of wisdom, there's a tiny 10mm speaker onboard with a teensy-weensy 35mW output as well as a headphone socket (and bundled 'phones).
The ICD-U70 comes in silver only while the ICD-U60 comes in groovier blue and white finishes.
Availability should be from mid March, 2006, with prices around $179.00 for the and $129 for the ICD-U70