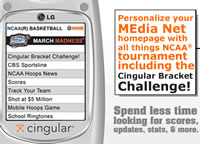 The US mobile companies are finally, really getting hold of delivering content of all sorts to mobile phones.
Crisp Wireless are working with Cingular on the (deep breath now), Cingular MEdia Net NCAA March Madness Portal and Bracket Challenge (gasp).
It provides 3G mobile phone access to lots of content. The particulars worth mentioning being …
a virtual leader board which can be played against others on the network
video highlights two-minute video clips covering all 64 games will be packaged and delivered to the handsets of Cingular customers twice-daily during each day of the tournament.
For the first time ever, will give wireless users the power to make, track and manage their tournament bracket entirely from their wireless handset.

As with all things to mobile phones, we'd love to see the figures as to who actually pays for access to this. A barrier which has yet to be consistently cracked.