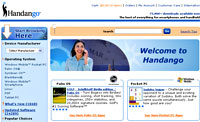 Handango has released their annual "Handango Yardstick", a global snapshot of the state of the mobile content industry in 2005.
Containing specific reports for each of the five major mobile operating systems – BlackBerry, Palm OS, Symbian OS and Windows Mobile Pocket PC and Smartphone – the Yardstick offers stats on the top devices downloading software and digital content, best-selling applications and ringtones and software sales by category etc.
Their 2005 report reveals that multimedia was the hot new category for 2005 with fast-rising sales on all platforms.
Across the board, MP3 and music players; DVD/video converters and viewer and ringtone managers topped the best sellers list, with multimedia content ranking seventh in the top ten sales by categories
The big hitters included Ring Tone Megaplex for BlackBerry, Ringo Pro for Palm OS, Pocket-DVD Studio for Windows Mobile Pocket PC and SmartMovie for Symbian OS.
The Yardstick reported an overall increase in the average selling price (ASP) of mobile applications, surging upwards from $16.96 in 2004 to $20.03 in 2005.
The dynamic nature of the smartphone/PDA industry was reflected by the fact that only four of the top ten devices adding content in 2004 – the Palm Treo 600/650, O2 XDA, Sony Ericsson P900/P910 and Palm Tungsten T Series – stayed in the list.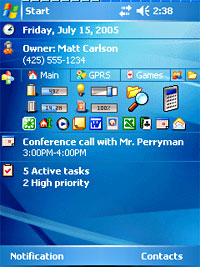 New additions included the Motorola RAZR V3, the BlackBerry 7100 Series and the BlackBerry 7250/7290 (the first BlackBerry smartphone to ever make the top ten).
Palm
The Palm Treo 650 shunted the Treo 600 into second place as it grabbed the title of the number one device adding content, with the Palm Tungsten E, Palm Tungsten T3 and Palm Tungsten T5 trailing behind.
Although more than 2,125 new applications were created for the Palm OS in 2005, this represented a hefty 89 percent decrease from last year.
Here's the top ten best-selling applications for Palm OS according to Handago:
1. Agendus Professional Edition
2. Treo Voice Dialing
3. AOL for Treo 650
4. Agendus Standard Edition
5. PocketMirror Standard Edition
6. Diet & Exercise Assistant
7. SplashID
8. KeySuite
9. SOLITAIRE PACK
10. Ringo Pro
Windows Mobile Pocket PC
A total of 3,024 new applications were launched on Windows Mobile Pocket PC platforms in 2005 – down on the previous year's total by 17 percent.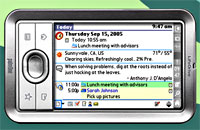 The top ten Windows Mobile Pocket PC applications were:
1. Spb Pocket Plus
2. Battery Pack Pro
3. Agenda Fusion
4. Pocket-DVD Studio
5. SBSH PocketBreeze
6. Microsoft Voice Command – US Edition
7. Pocket Informant
8. eWallet
9. Pocket Controller-Professional
10. Spb Weather
Pocket PC Yardstick [PDF]
Smartphone Yardstick [PDF]
BlackBerry
The Handango Yardstick reported a busy year for BlackBerry with 462 new applications contributing to a 67 percent increase over last year.
The top three BlackBerry devices adding content in 2005 — the BlackBerry 7250, BlackBerry 7290 and BlackBerry 7100t — were also three of the top smartphones adding content across all platforms.
The top ten best-selling applications for BlackBerry were:
1. Ring Tone Megaplex
2. WebViewer
3. Aces Texas Hold'em – No Limit
4. IM+
5. Acrobat PDF Graphical Attachment Booster
6. CryptMagic + PC Desktop
7. Sol Mania
8. Ascendo Photos
9. Requwireless Value Bundle
10. PocketDay Professional Edition
Blackberry Yardstick [PDF]
Symbian Yardstick